New Junior Infants
We welcome our two new junior infants and wish them a year full of fun and learning.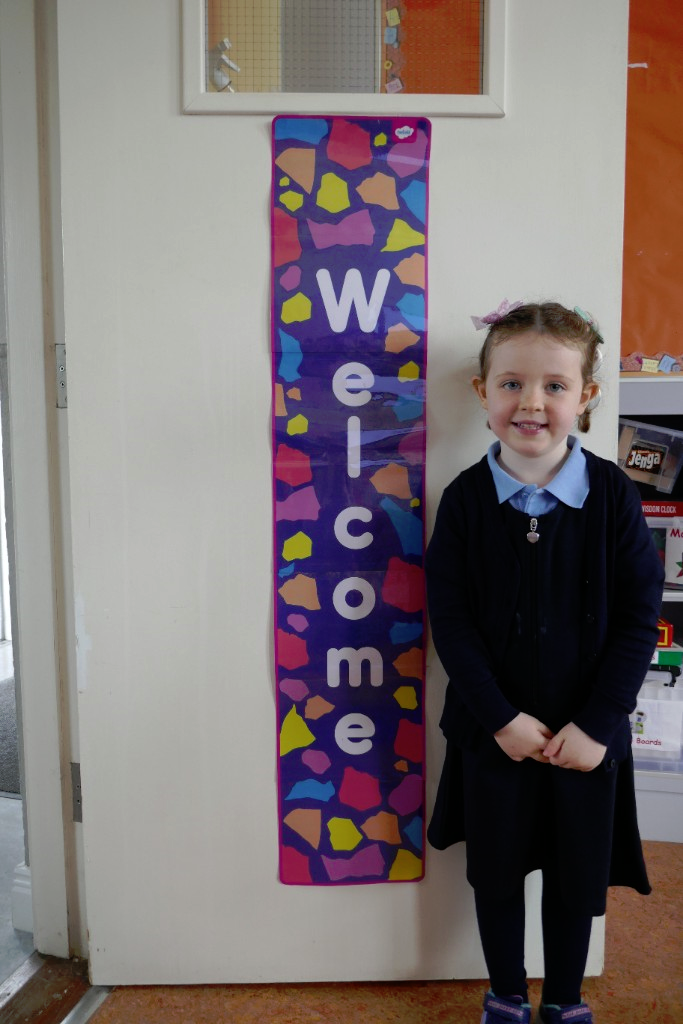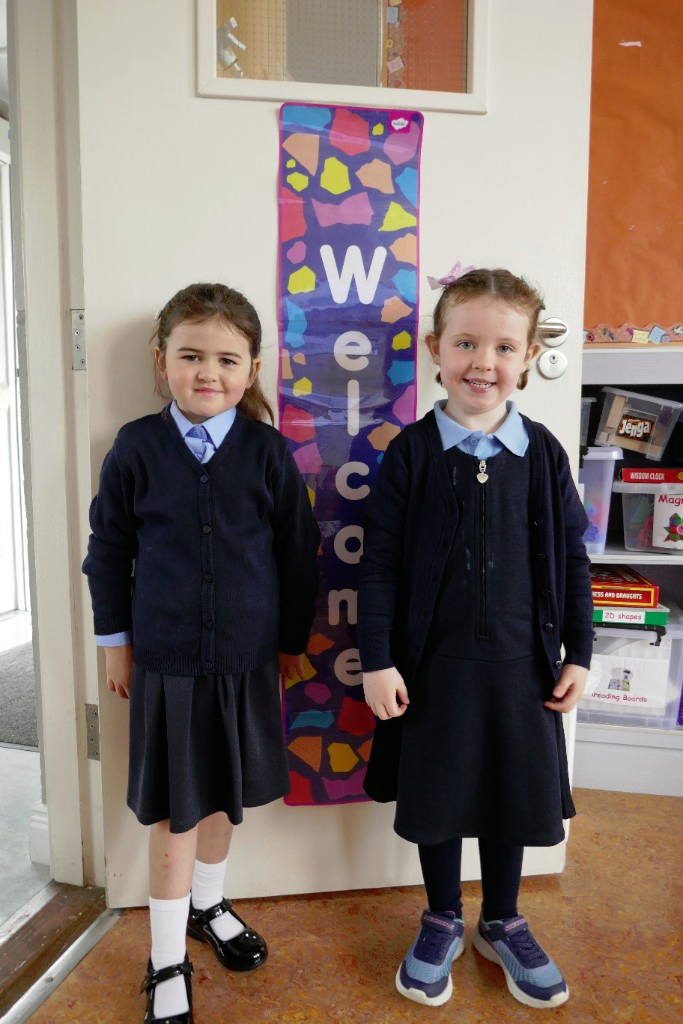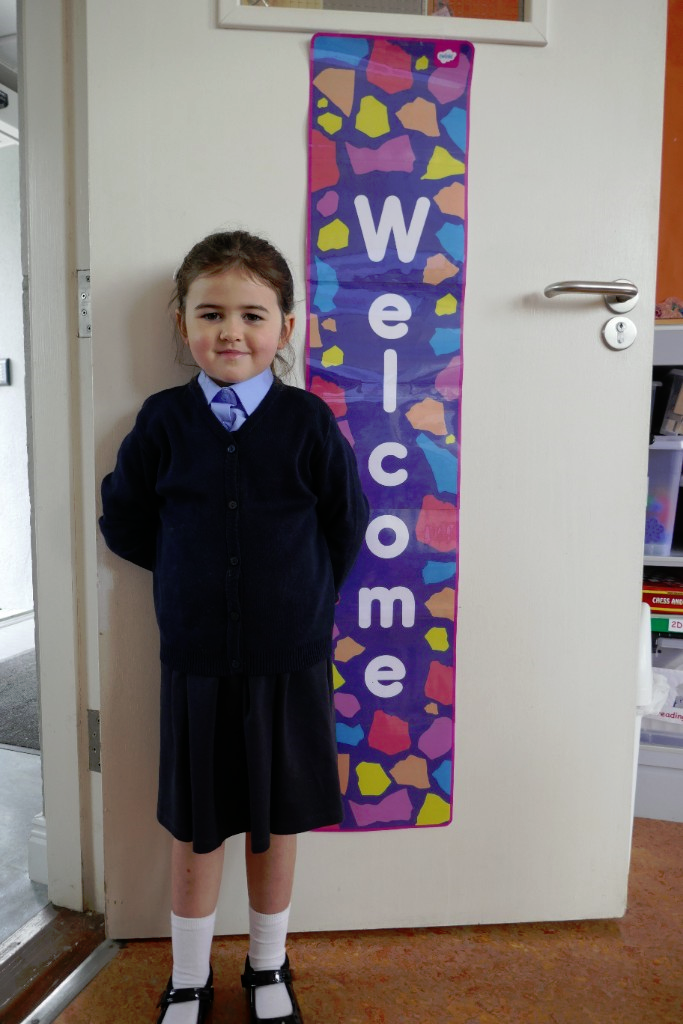 Easter Egg Hunt
We had great fun on our Easter Egg Hunt today, Wednesday 29th March. Happy Easter everyone!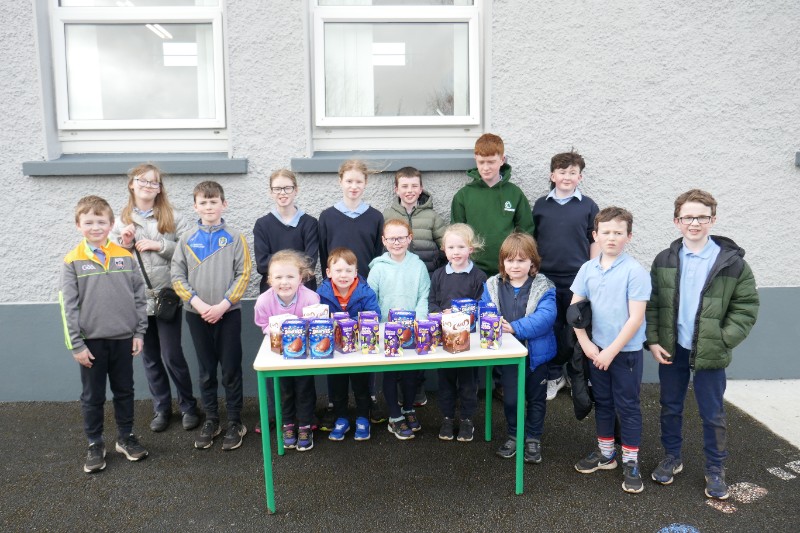 Say Yes to Languages
We finished our Primary Language Sampler Module last week. It was great to have the opportunity to become familiar with French phrases and vocabulary. Thanks to our tutor Lesa Rice for her enthusiasm each week and for sharing her passion for the language. On our last day, we sampled some traditional French food.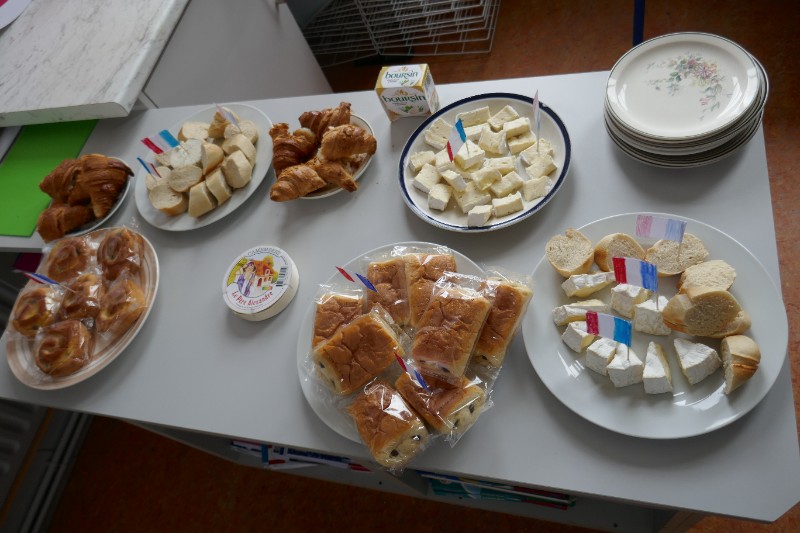 Confirmation
Congratulations to our 6th class pupil Harry, who received the Sacrament of Confirmation on Friday March 24th in St. Joseph's Church, Ballyforan.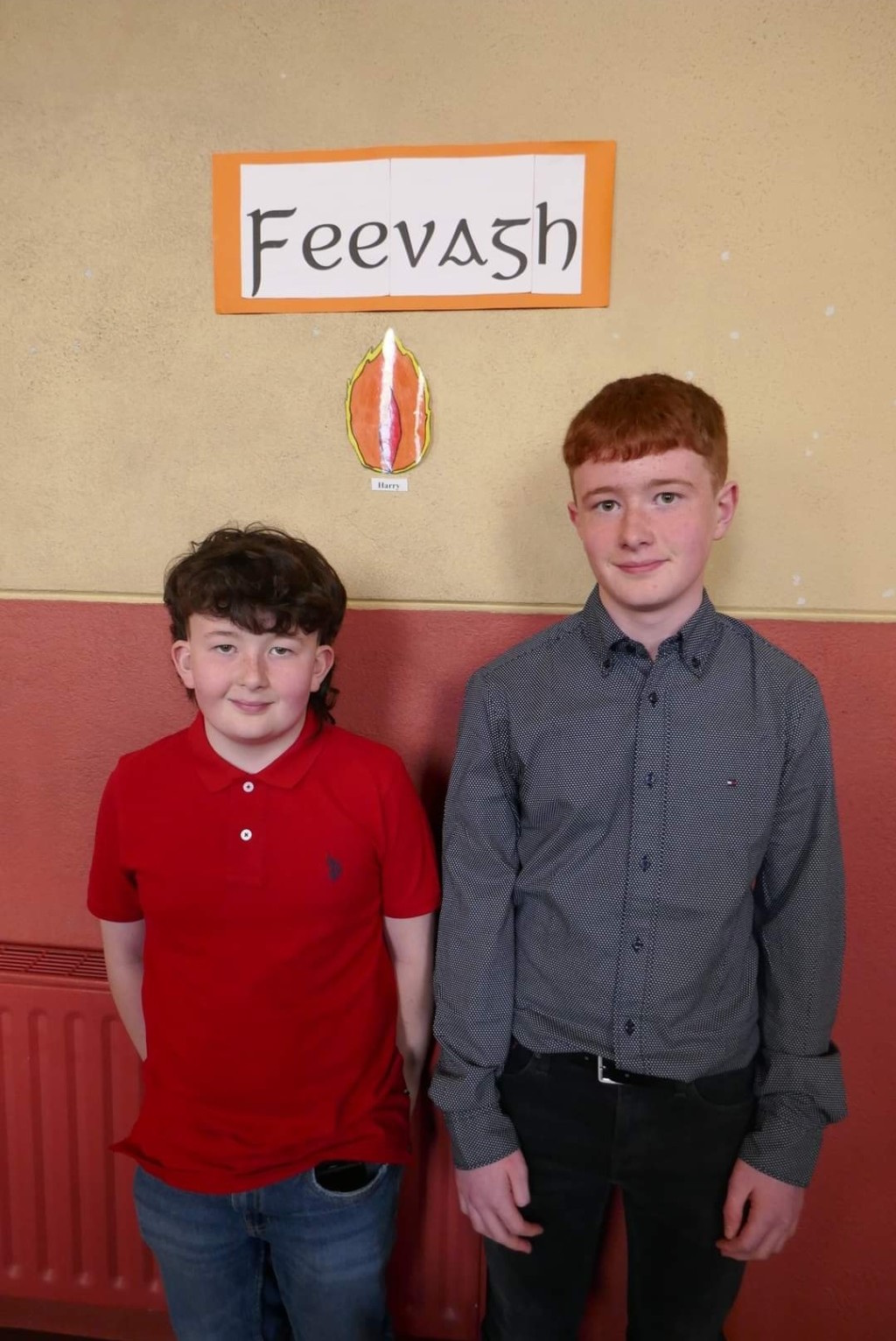 Lá Glas
We celebrated'Lá Glas' today, March 16th, in Feevagh N.S. Well done to all the pupils on making such a great effort to celebrate St. Patrick's Day. Bhí cupla damhsa againn agus bhí tráth na gceist againn freisin. Comhghairdeas leis na buaiteoirí, William agus John. Lá Fhéile Padraig shona daoibh go léir.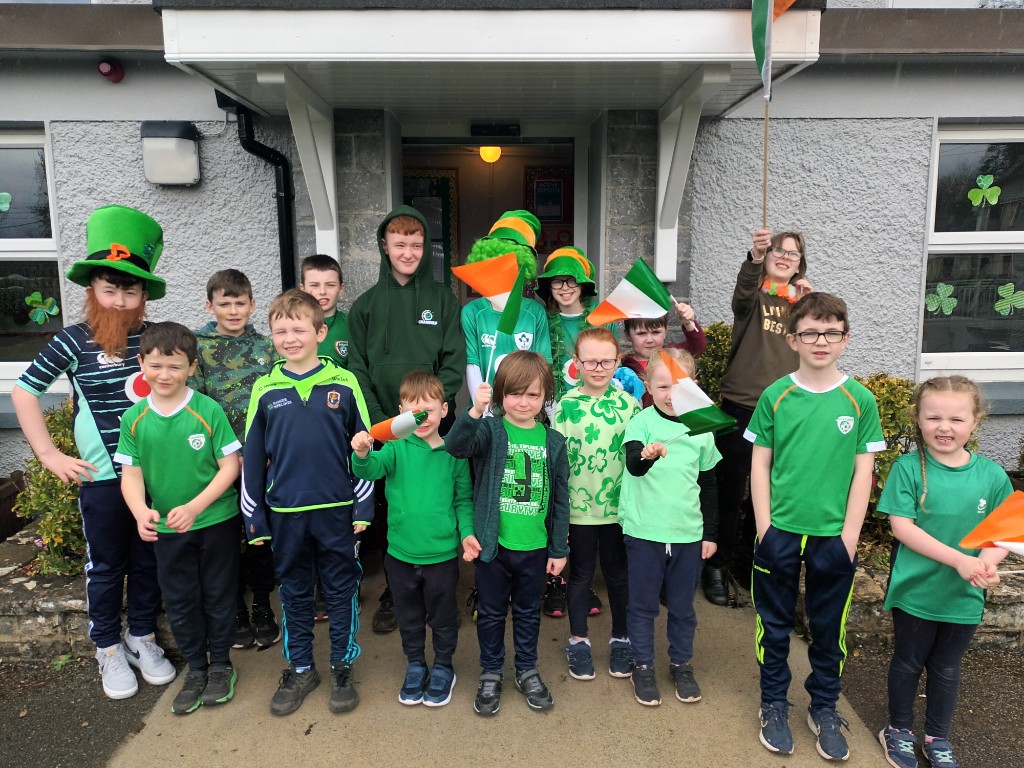 First Penance
Congratulations to our 2nd class pupils who received the Sacrament of Reconciliation in a beautiful ceremony in Ballyforan Church on March 14th 2023.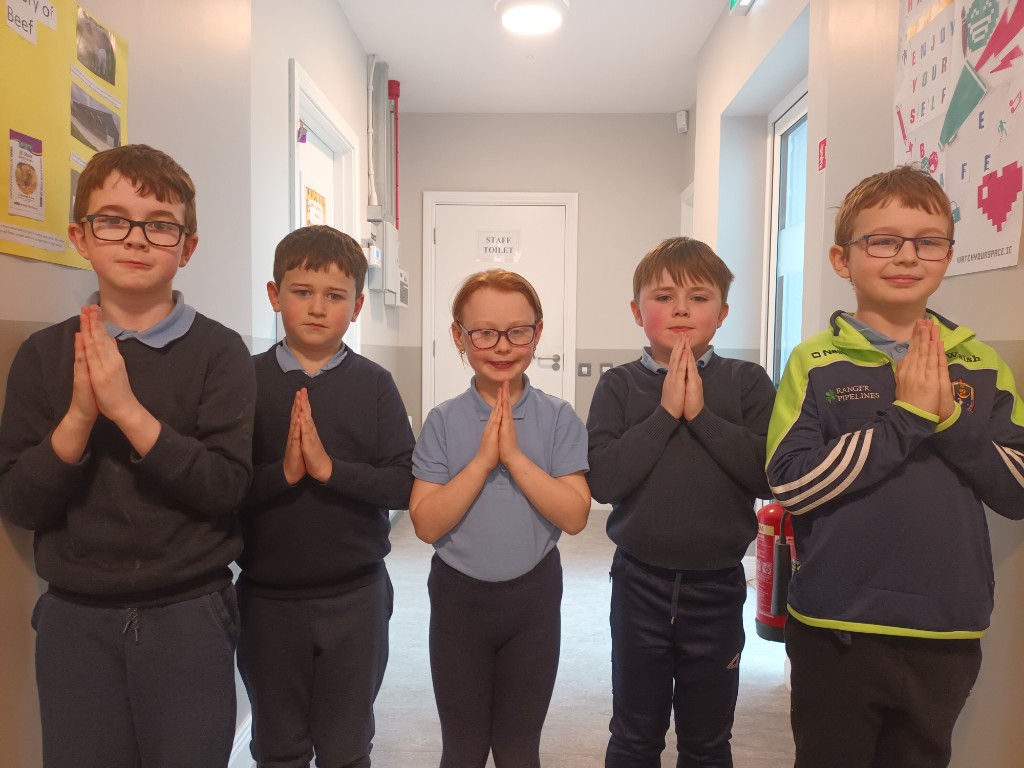 Engineers Week 2023
This week, the children are thoroughly enjoying taking part in Engineers Week. We have watched the STEPS Engineers Week Shows and carried out various engineering activities. Well done to the students who worked on their projects at home and presented them in class today, March 9th.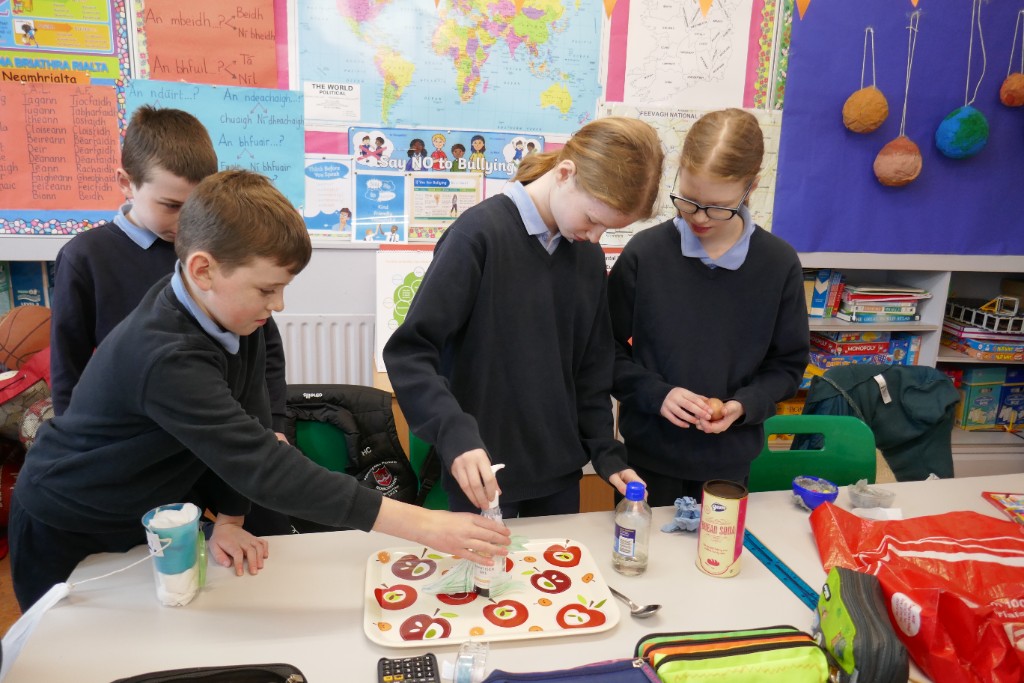 BLAST 2
Today, March 7th, we had our second visit from Daragh Slacke as part of the BLAST initiative. We worked on stop motion videos. The children planned stories using 'story-boarding' and then put them in sequence in their stop motion video. We can't wait to see the finished products!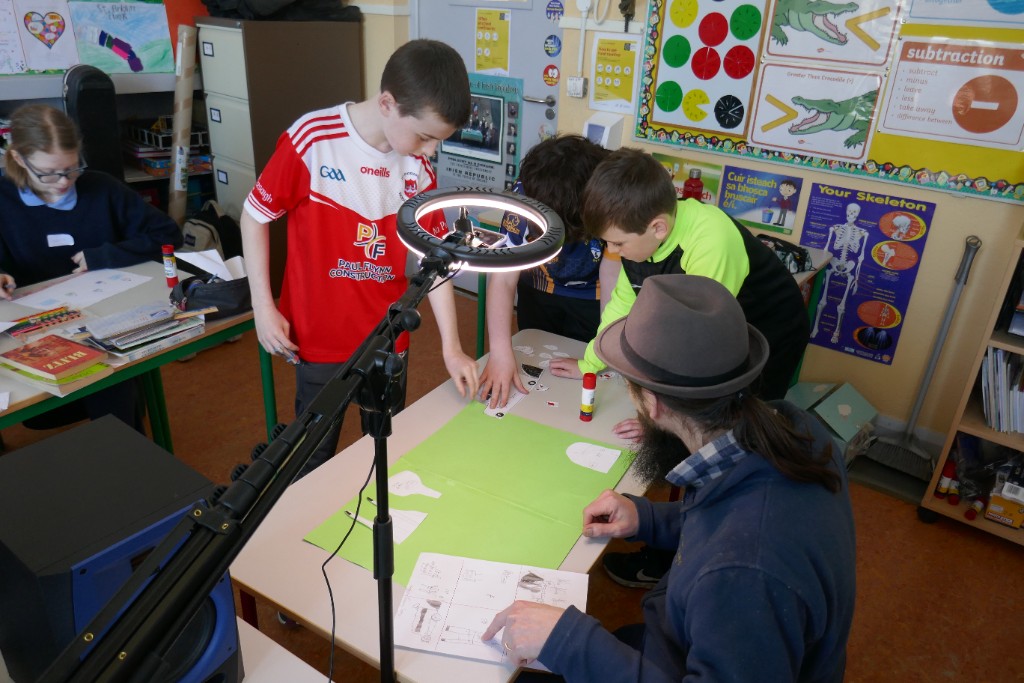 Mobile Library
We were very lucky to have a visit from the Mobile Library today (March 7th). We got a chance to update our school library and look forward to their next visit already! Thanks to Declan and Ciara for being so accommodating.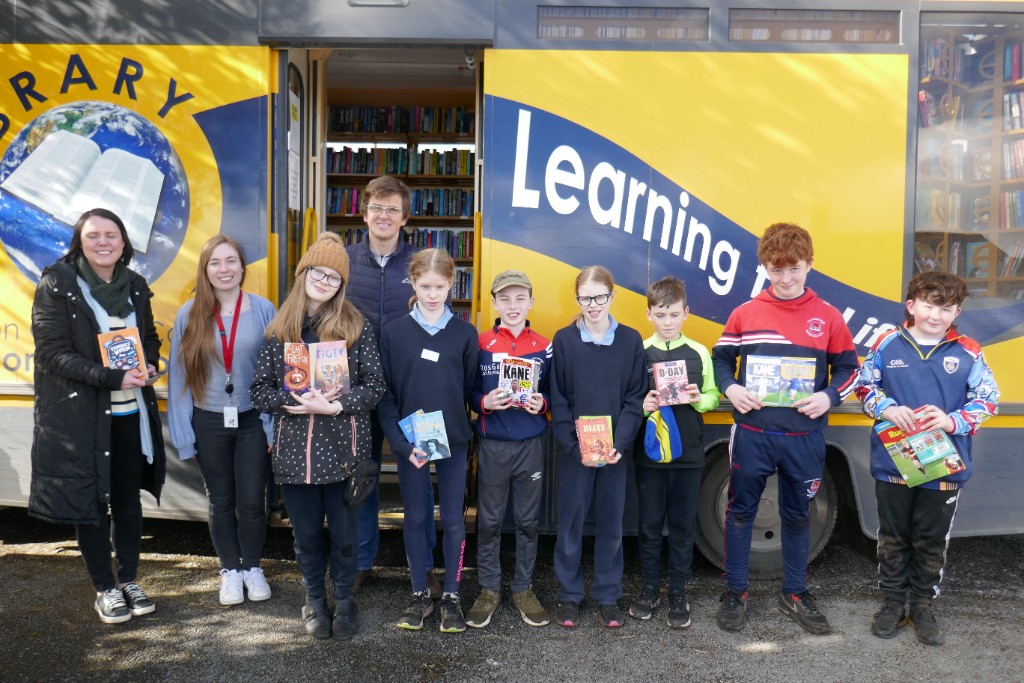 World Book Day
Today, March 2nd, we celebrated World Book Day in Feevagh N.S. Well done to all the children who made a great effort with their costumes. We participated in various activities including paired reading, with the seniors reading to the juniors. We finished off the day with hot chocolate and cookies.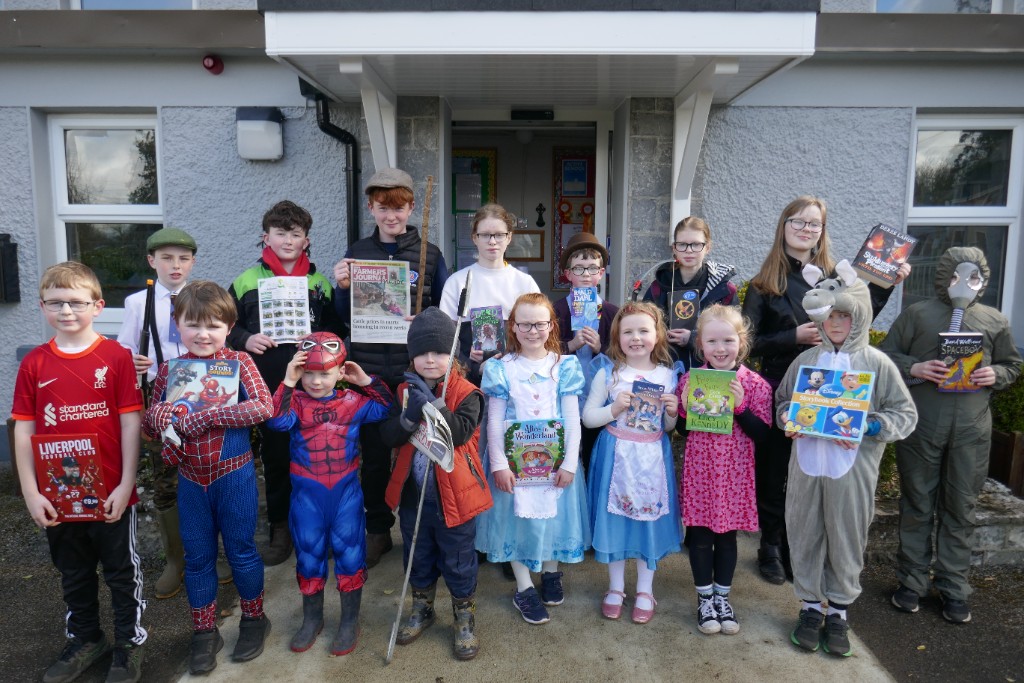 Incredible Edibles
Busy in the garden today, February 23rd, completely Task 3: The Growing Element, as part of the Agri Aware incredible edibles programme. We sowed seed potatoes, strawberry plants, lettuce, chives, turnip and carrots.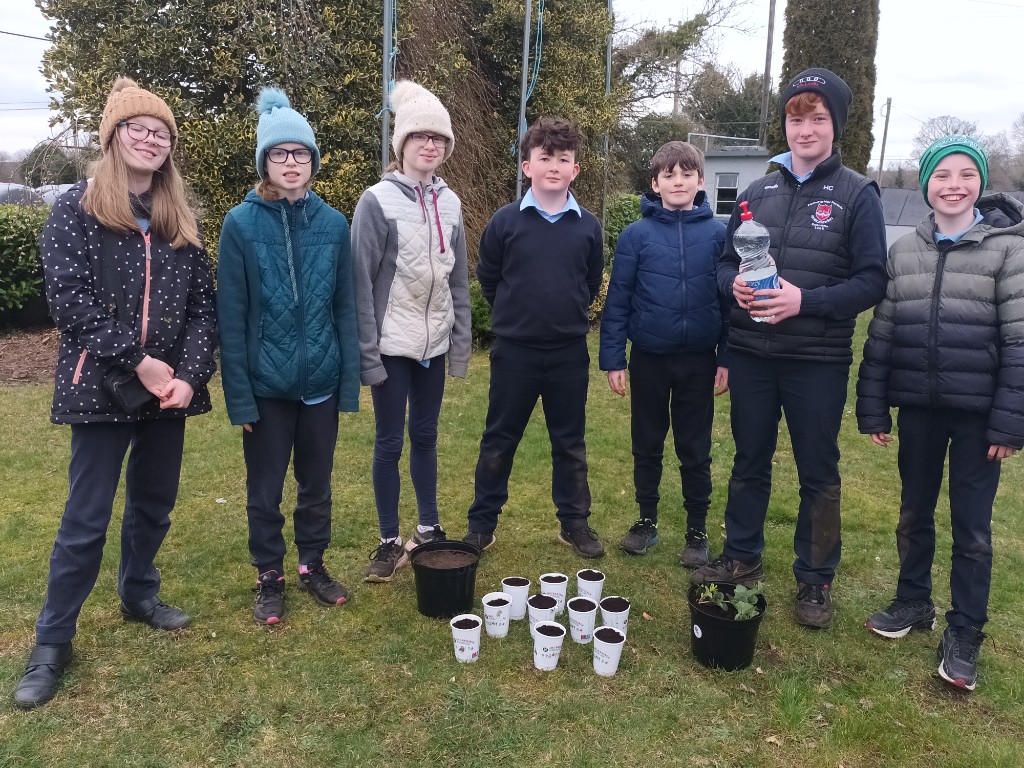 Roscommon Drama Festival
Congratulations to 6th Class pupil Harry, a prize winner in the Roscommon Drama Festival Story Writing Competition. Children were asked to write a short story based on a title of one of the plays being performed at the festival. Harry chose the title, 'Sparrowhawk'. Well done Harry!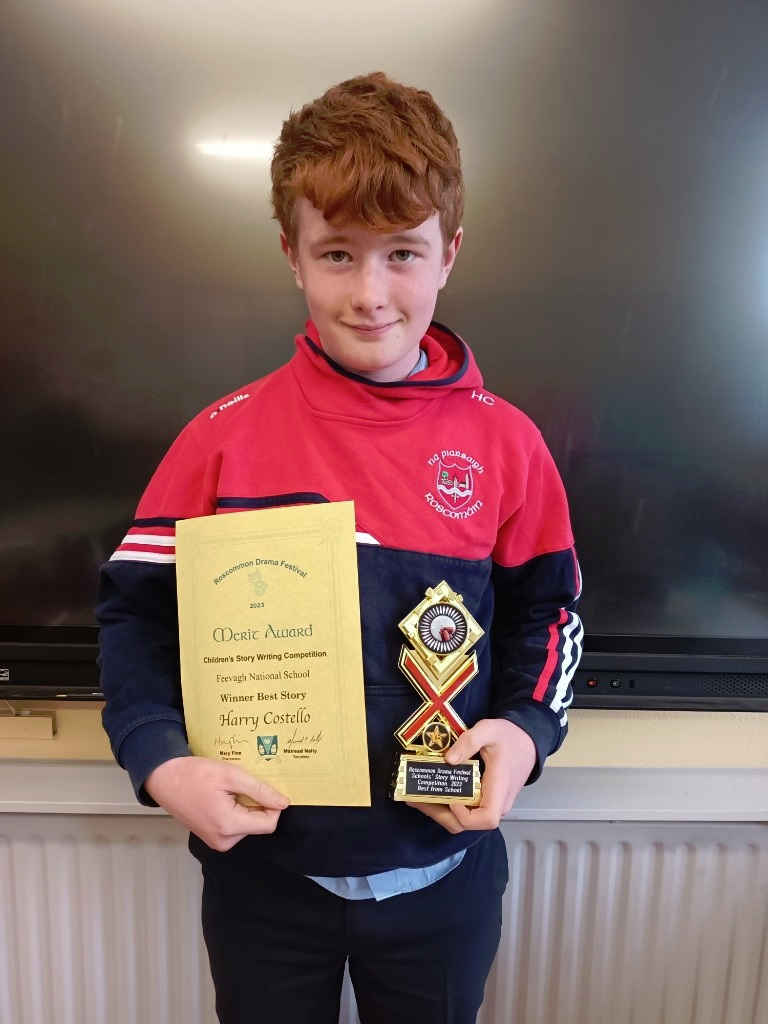 BLAST
We are very lucky to be participating in the BLAST (Bringing Live Arts to Students and Teachers) Programme for the second year running. This year we are working with musician Daragh Slacke. For our first session on February 21st, we were writing and recording our own rap songs and even got the chance to record a music video! We had such great fun and lots of laughs. We are already looking forward to Daragh's next visit.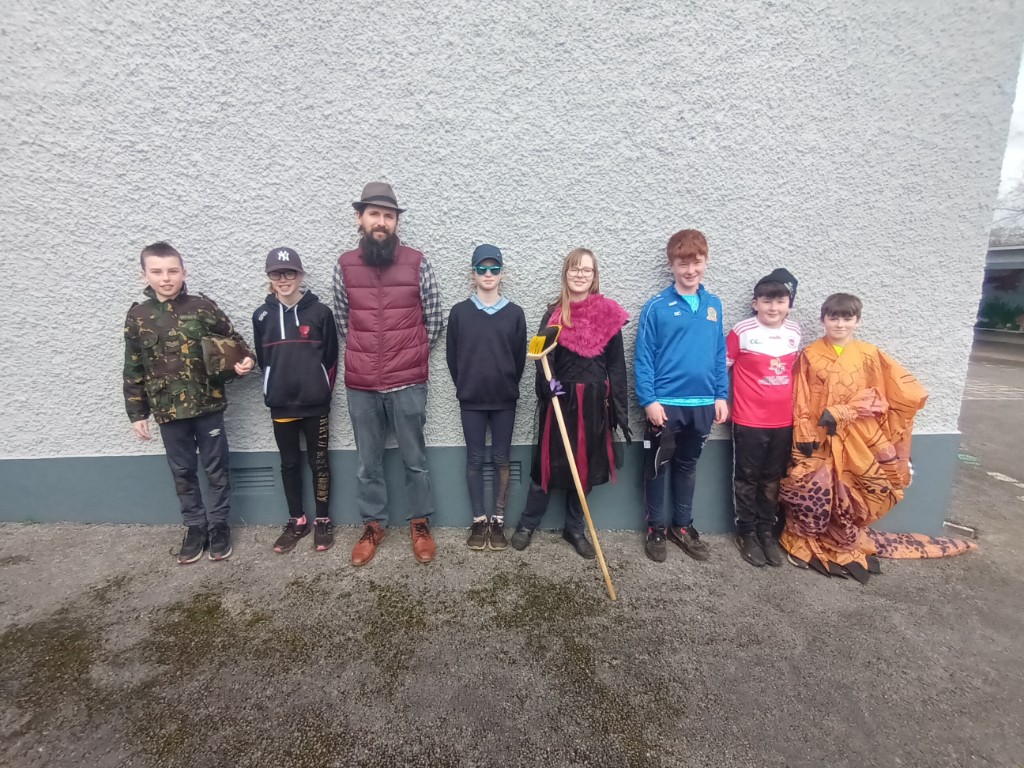 Pancake Tuesday
Children in all classes had great fun making pancakes on Pancake Tuesday. Getting the chance to flip them was the best part!! And eating them of course!!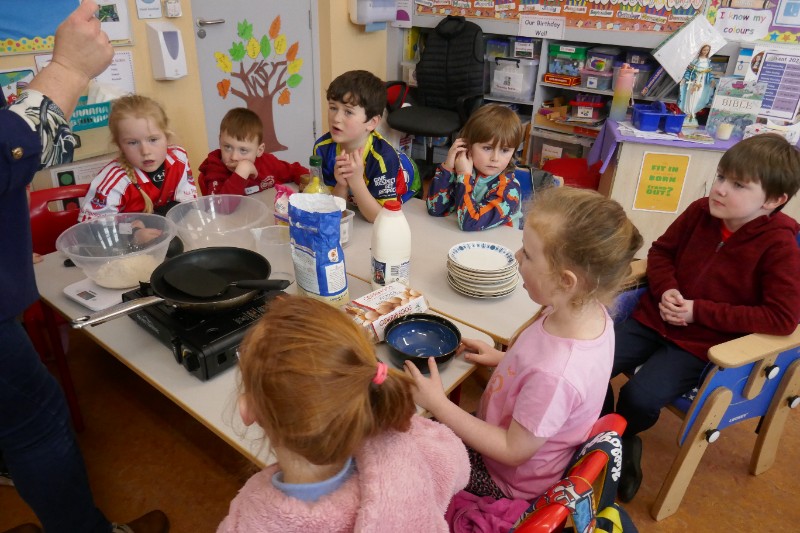 St. Valentine's Day
Happy Valentine's Day from all at Feevagh N.S. The seniors made some tasty treats for all the students and staff, which were much appreciated!! We also completed some beautiful art work.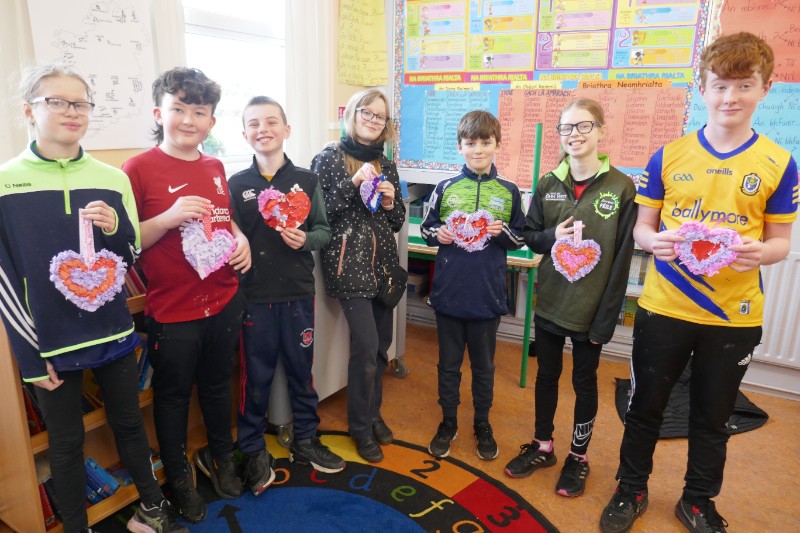 Safer Internet Day
On 7th February, Safer Internet Day, Feevagh N.S. joined people in more than 180 countries around the world in celebrating and helping to promote a safer and better internet for all, especially for children and young people. Children received their Safer Internet Day wrist bands and completed internet safety activities to mark the day.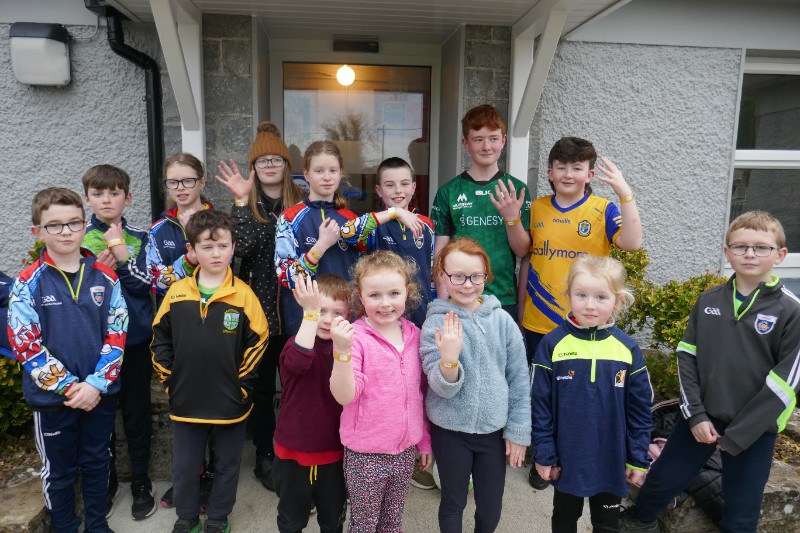 Credit Union Quiz
Best of luck to our students participating in the Roscommon Credit Union Quiz this Sunday, 29th January in Kilbride Community Centre.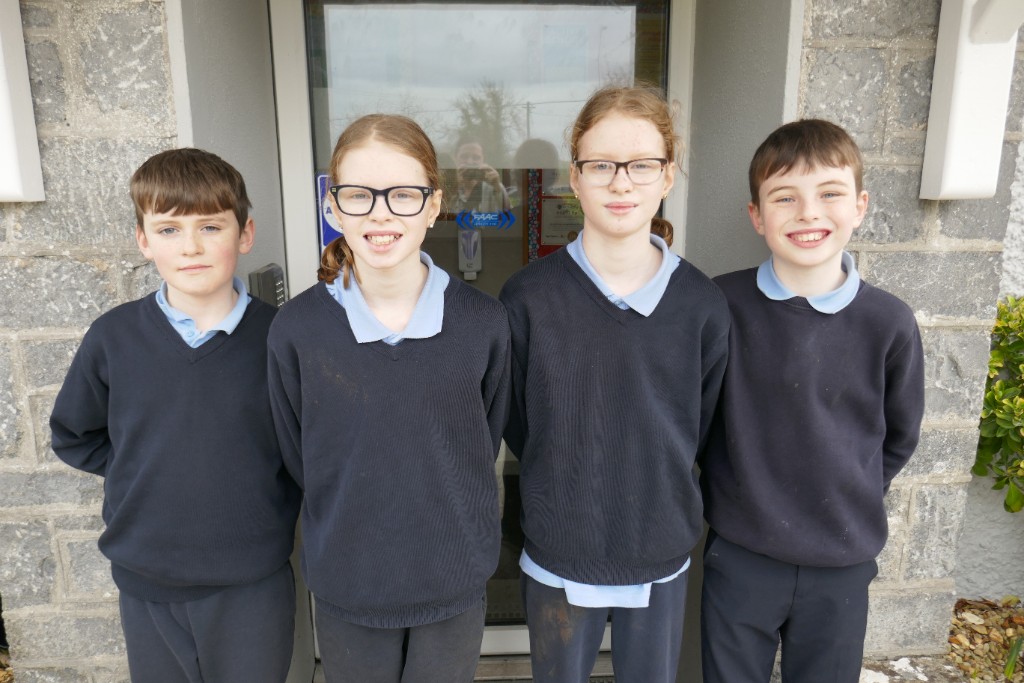 Amber Flag - Christmas Cards to Care Home Residents
All our students participated in the Carepack.ie kindness initiative which encourages volunteers to send Christmas Cards to residents in care homes. This is part of the Amber Flag Programme which we are currently running in the school.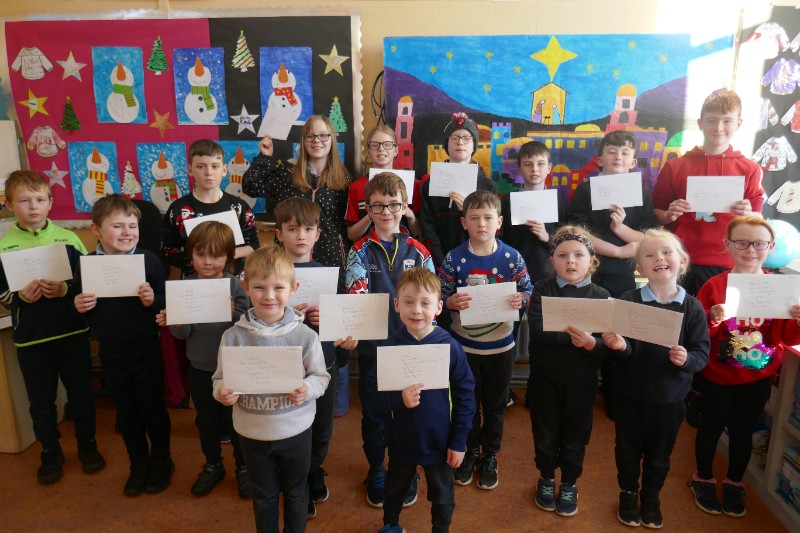 Christmas Play - Straw and Order
We held our Christmas Play, Straw and Order, on Thursday 15th December in Feevagh N.S. The children put on a magnificant performance and sang, danced and acted their hearts out! Well done to everyone. Go to Gallery for more photos.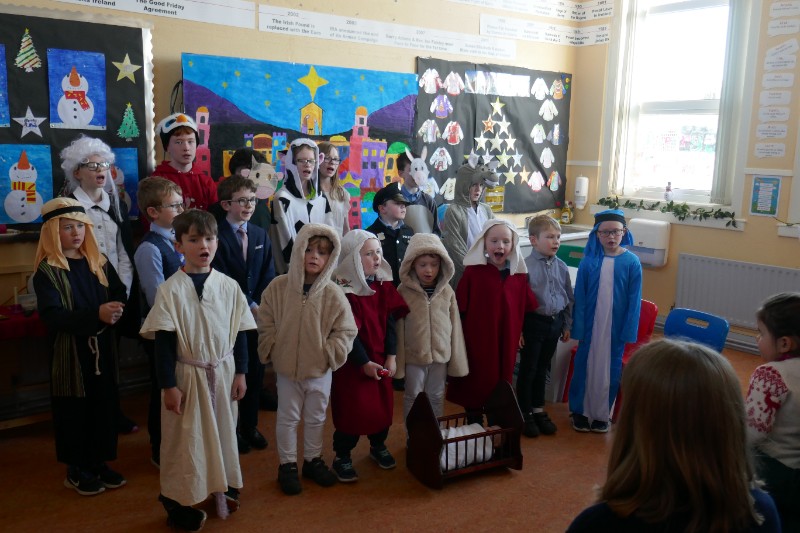 Science Week 2022
We all participated in Science Week this year. The junior classes conducted some very exciting experiments and the senior room had great fun assembling STEM kits which develop critical thinking, problem solving, social skills and cognitive learning styles. We also had a visit from Pat from Roscommon Fire Station, along with one of the Fire Engines. He talked to us about Fire Safety and let us try on firefighting equipment. He allowed us onto the fire engine to test out the sirens and lights and we even got a chance to use the hose!! To cap the week off we had a visit from Fred the Party Professor, who entertained us with his music and magic.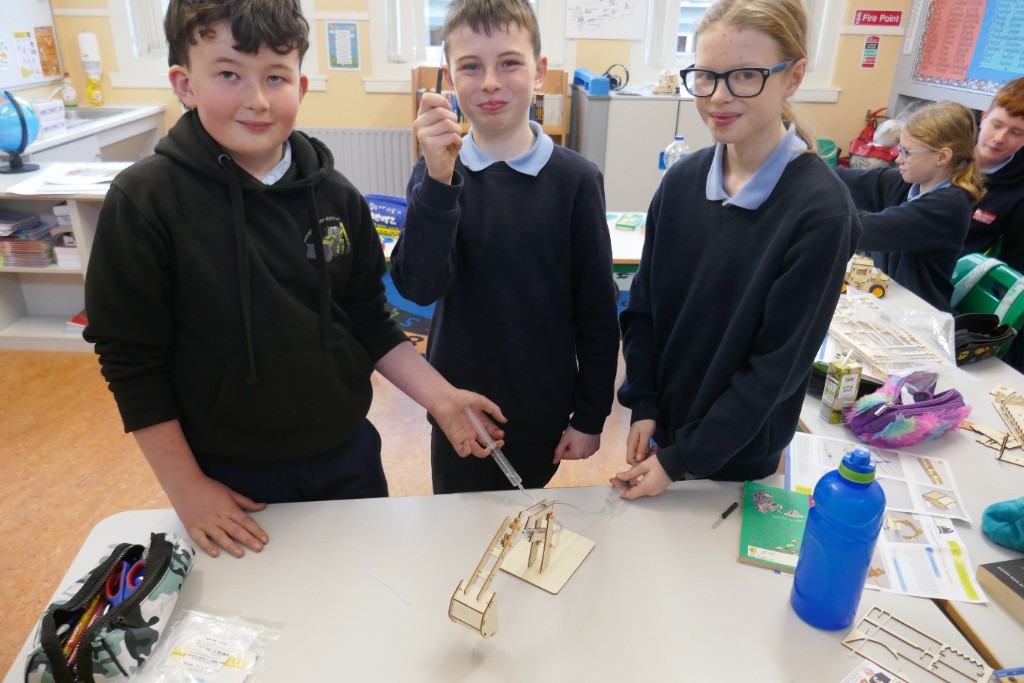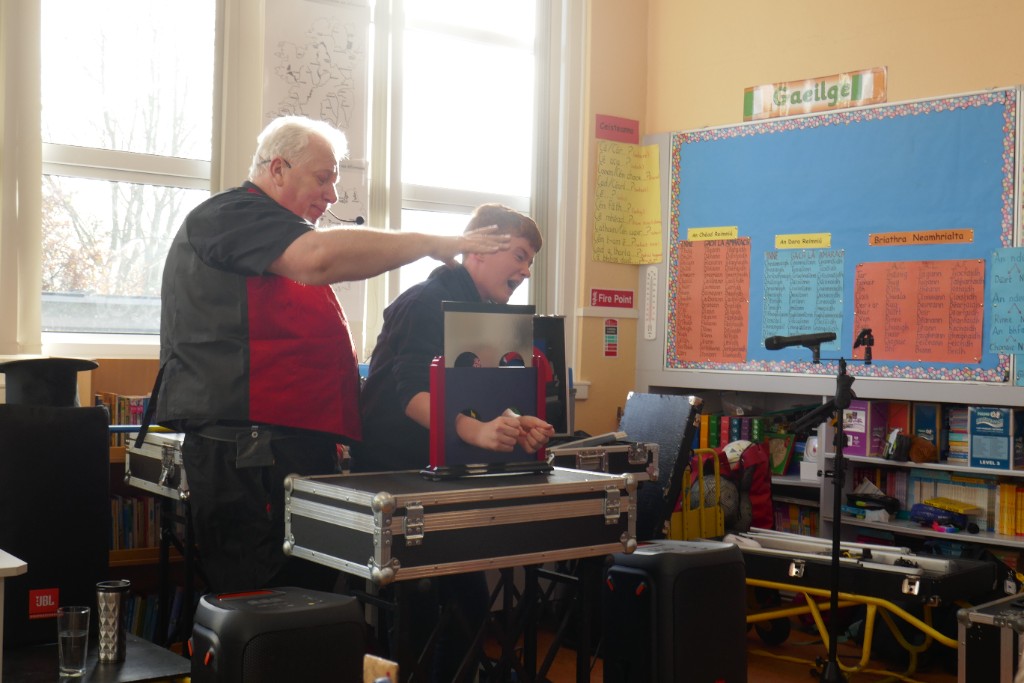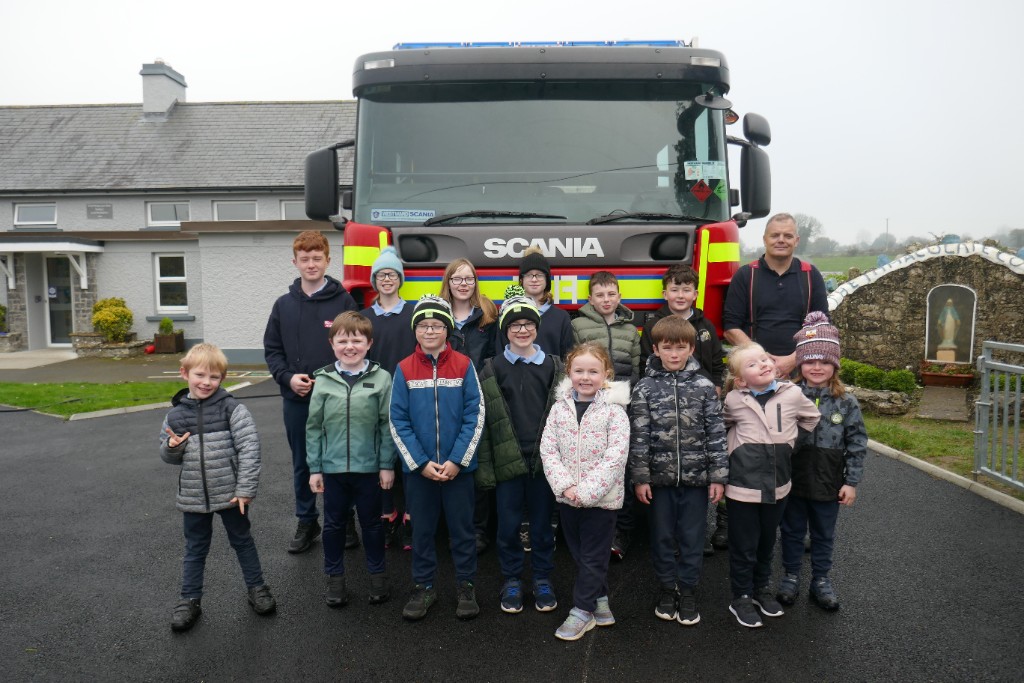 Nadúr san Oíche
We were delighted to welcome back our past pupil, Orla Clogher, to Feevagh N.S. this week. Orla worked with both junior and senior students making lanterns which will be used at the annual Dysart Christmas Tree Lighting Ceremony in December. Orla has worked with Macnas and Branar Theatre Company and so it was it privilege to have her share her expertise with us.
For more pictures of these amazing workshops, visit our Gallery.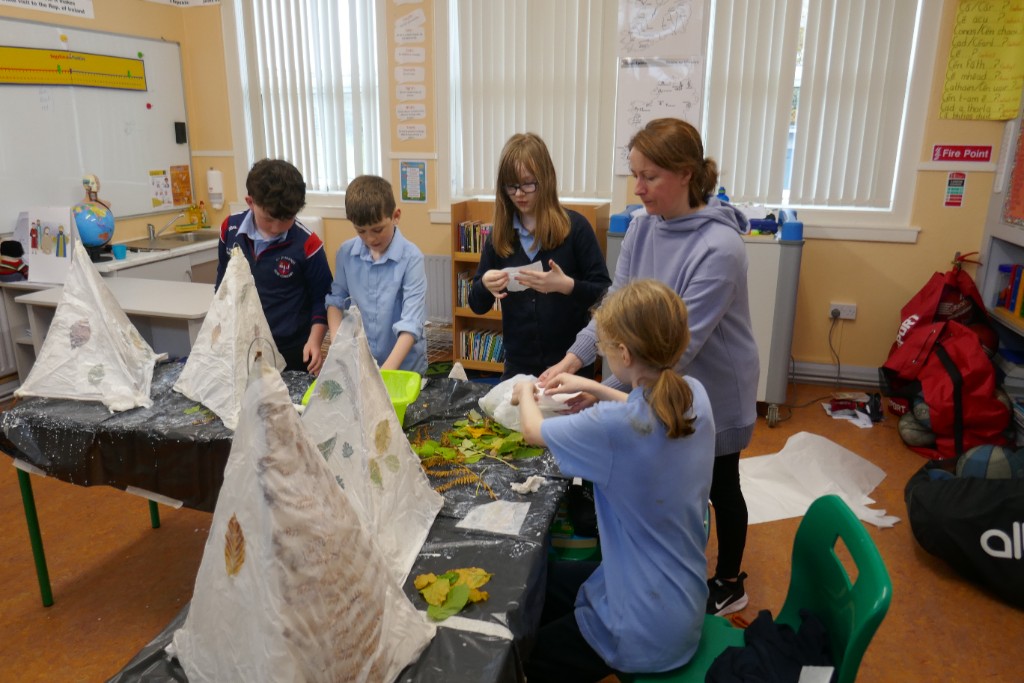 Team Hope Christmas Shoebox Appeal
Thanks to all who supported the Team Hope Christmas Shoebox appeal by either bringing their shoebox to school or by donating online.
Team Hope's Christmas Shoebox Appeal is an annual campaign that delivers gifts straight into the hands of children affected by poverty. Often these shoebox gifts are the only gift that a child will receive at Christmas and the joy that they bring is incredible. Since 2010, Team Hope have delivered over 2.1 million Shoebox gifts to vulnerable children across the world.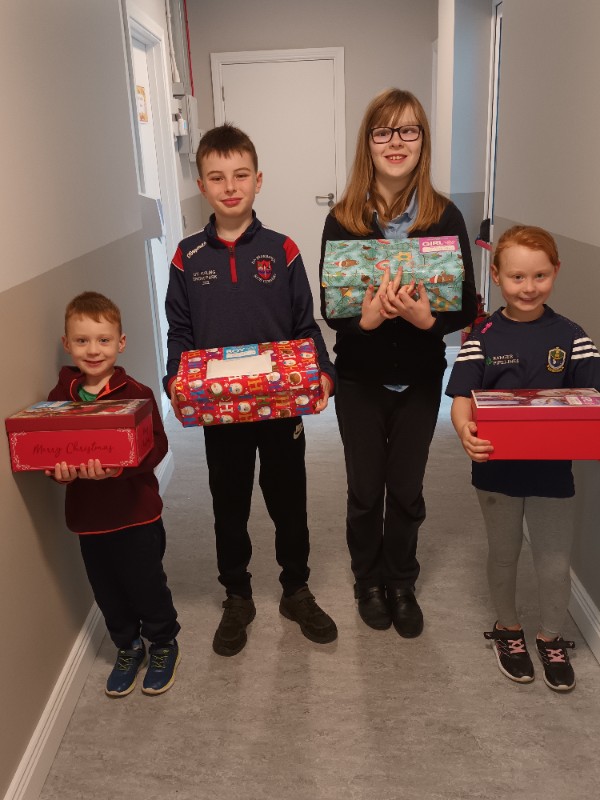 Halloween Fancy Dress
Wishing all our families a very Happy Halloween and an enjoyable Midterm Break. There were some fantastic costumes on display in Feevagh N.S. Well done to all the boys on girls.
As part of our Active Flag renewal, we had a #FeelGoodFriday ACTIVE HALLOWEEN. The seniors arranged some fun activities for the junior students with everyone having plenty of fun!
As always, go to the Gallery for lots of photos!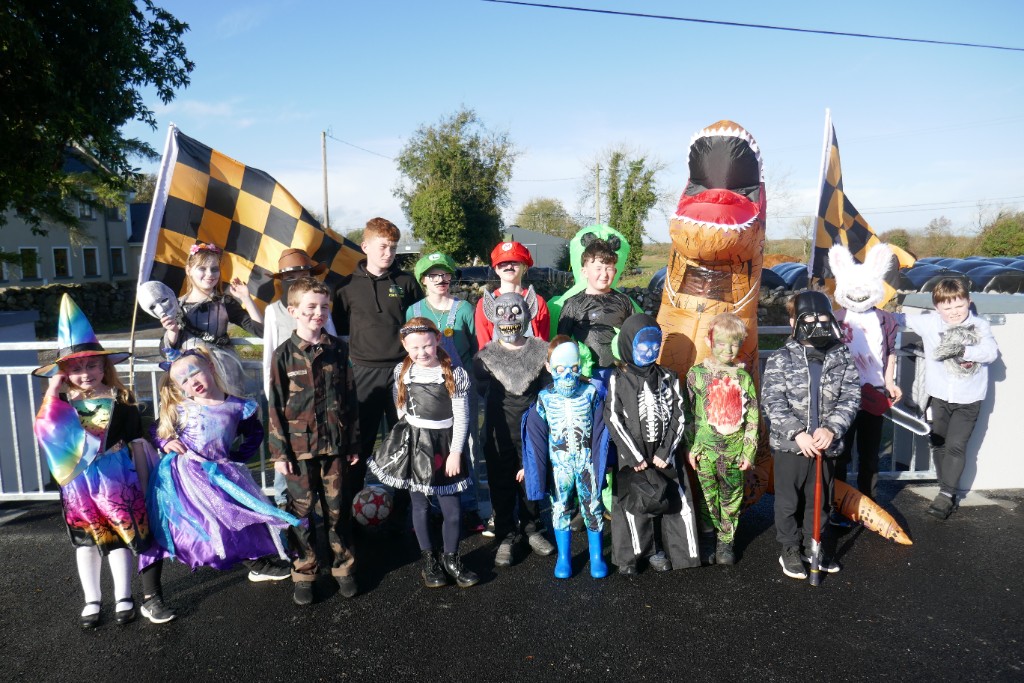 County Hurling Final 2022
On Friday 21st October we dressed in our team colours ahead of the County Final on Saturday. Some of our children are proud Padraig Pearses supporters while more of us are Four Roads Fans! After the final, we were delighted with our unexpected visitors, the County Champions! Members of the Four Roads Hurling Team and Management brought the Mickey Cunniffe Cup to the school. Congratulations to Four Roads Hurling Club on a great victory! Brilliant to see our past pupils playing such a big part in this achievement. For more pictures, visit the Gallery.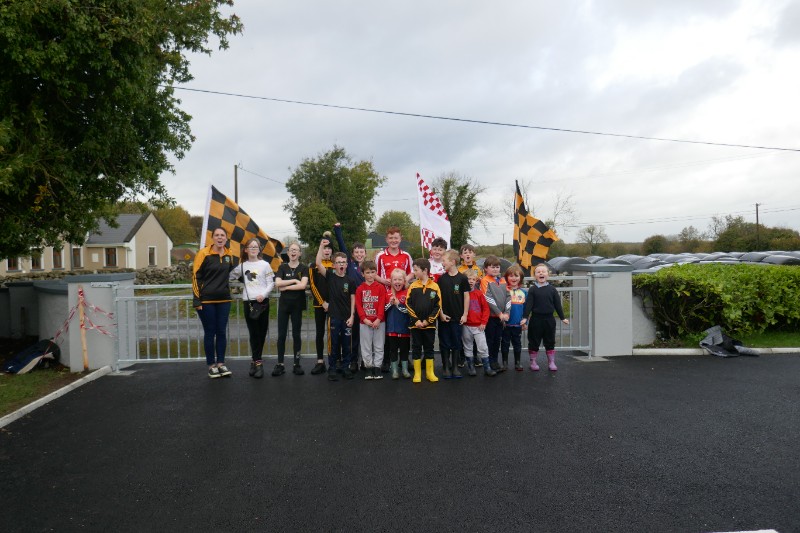 Seasonal Baking
Pupils in the senior classes baked apple tarts, made with delicious apples provided by our students on October 12th. We worked together doing different jobs from rubbing in butter and rolling pastry, to peeling apples and sprinkling in plenty of sugar! Today, we got to sample the delicious tarts, sharing them with all the students and staff!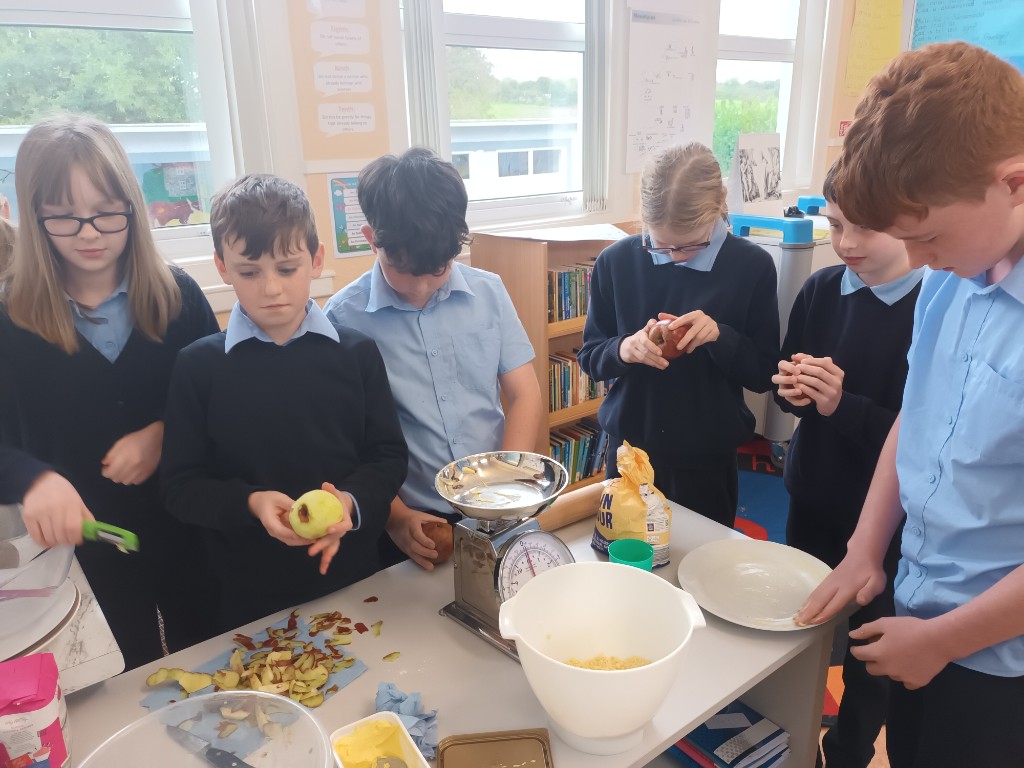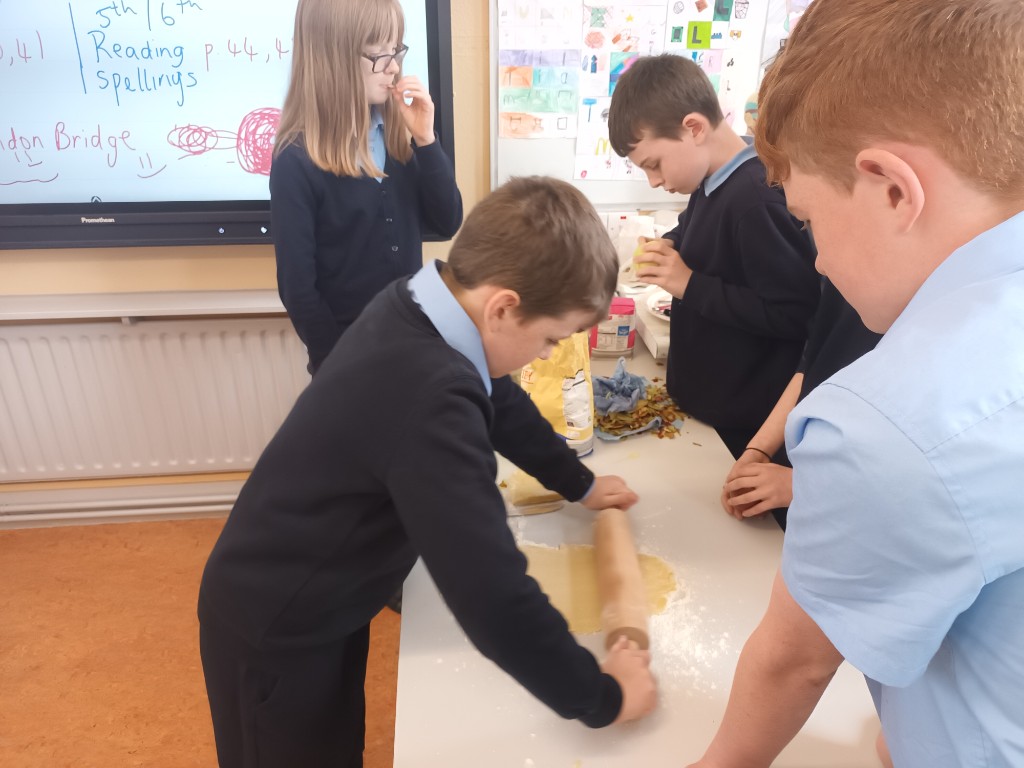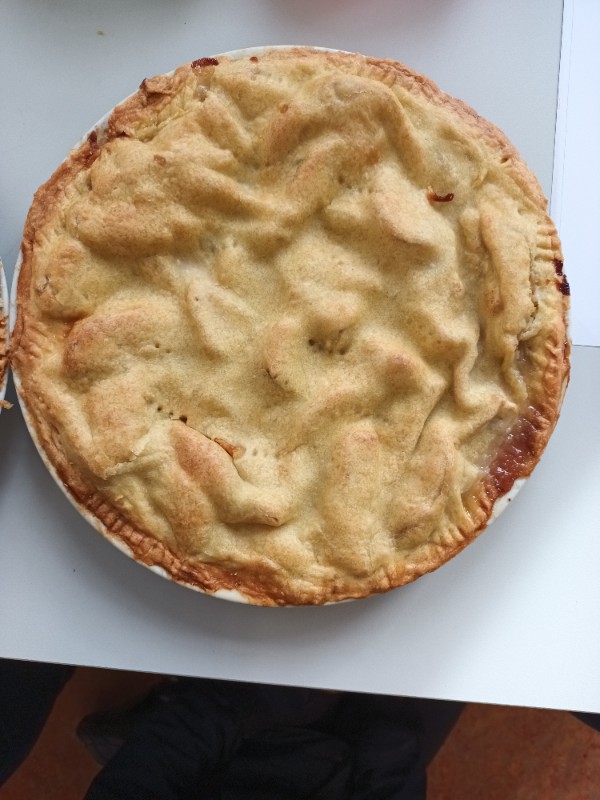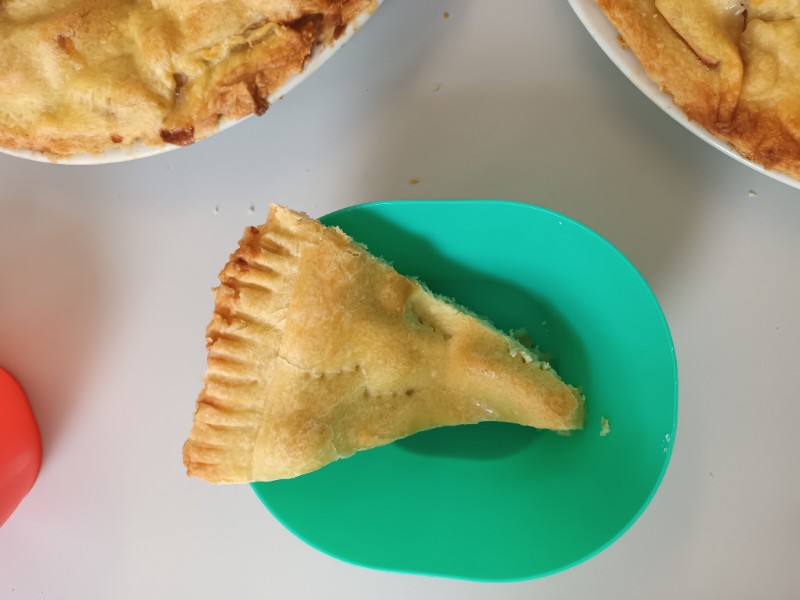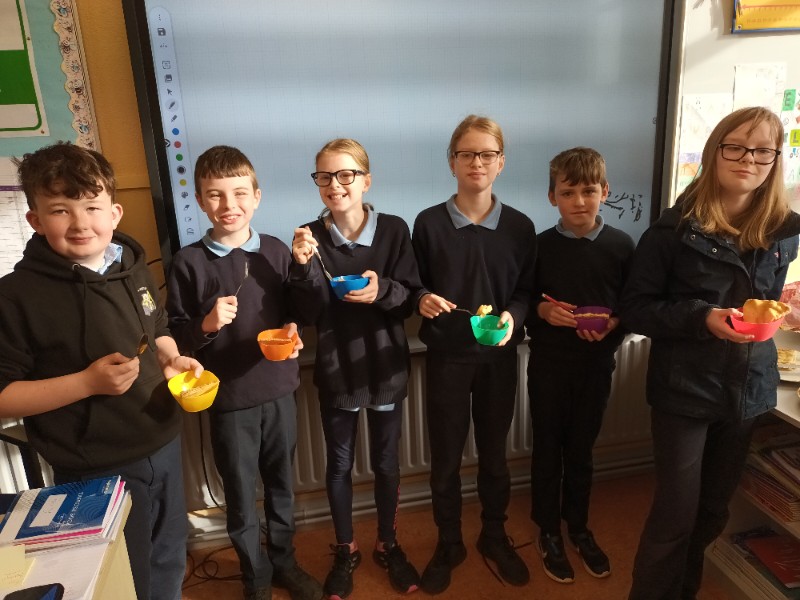 Food Dudes Week
Food Dudes Week ran from 4th to 8th October at Feevagh N.S.
This is an exciting extension of the classic Food Dudes programme, designed to maintain pupils' consumption of fruit and vegetables during years 2 & 3 of the Food Dudes cycle. To finish off the week, the senior room made banana milkshakes and strawberry smoothies for everyone. The banana milkshakes were a real hit and came out on top in a taste test vote! For more pictures, go to the Gallery.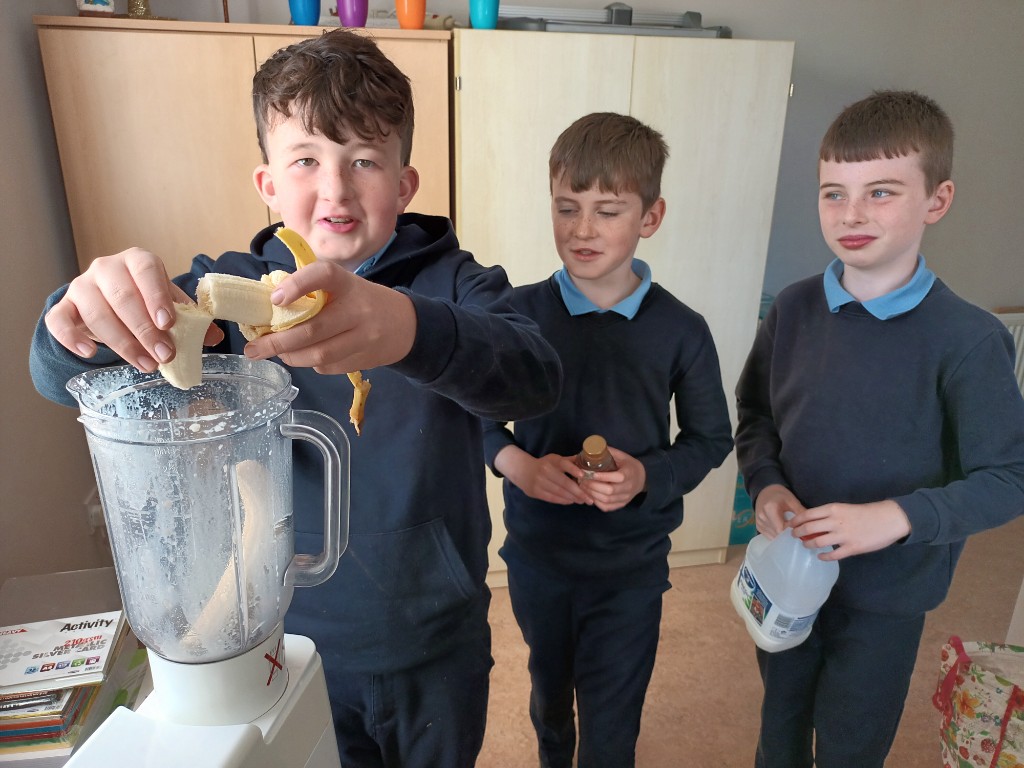 Cross Country
The senior classes participated in the Roscommon Primary Schools Cross County Champions on Thursday October 6th in Roscommon Race Course. Thanks to Roscommon County Athletics Board for organising such a well run event. Well done to the boys and girls of Feevagh N.S. who all did really well. Congratulations to Eabha who came 6th in her race!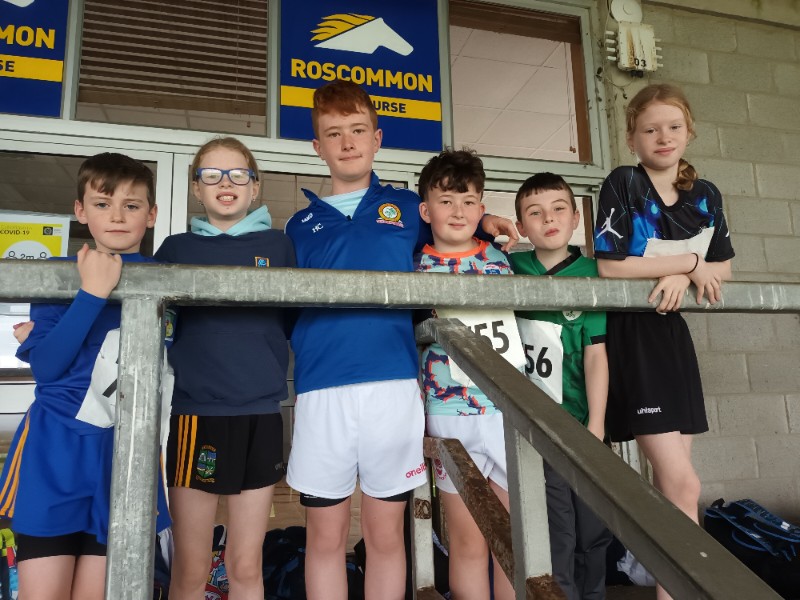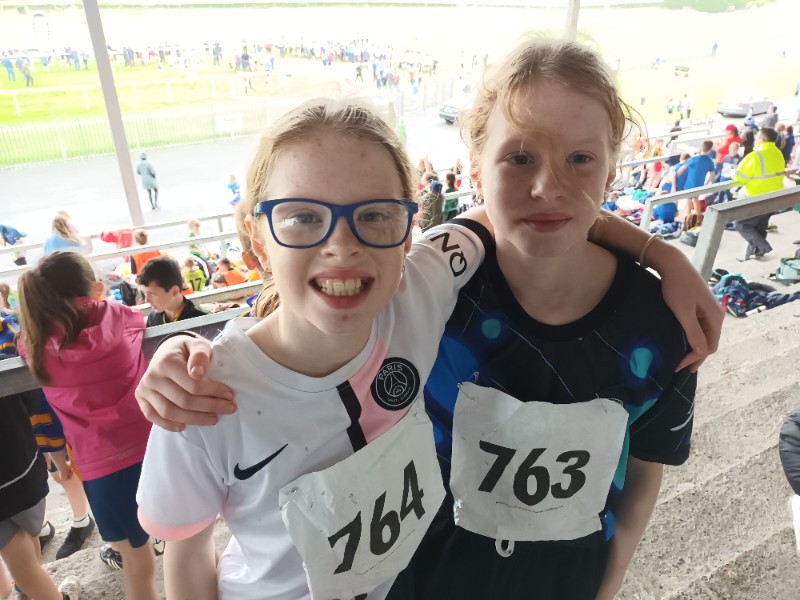 Beauty and the Beast
We visited Roscommon Arts Centre on Thursday 29th September for a matinee performance of Beauty and the Beast by the fantastic students of Roscommon Community College. The singing and acting were superb and the students of Feevagh National School had a ball. For photos, visit the Gallery.
Internet Safety Talk
The senior classes had a very interesting and informative talk from Enda in CyberSafeKids on Tuesday 21st September. Pupils discussed how to navigate the online world in a stronger, smarter and safer way. We learned more about cyberbullying, targeted advertising and scams and creating a positive digital footprint. Thanks Enda!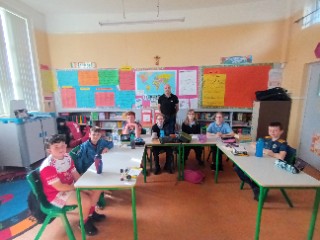 Welcome Back!
We were delighted to welcome the boys and girls back to Feevagh N.S. this morning. A very special Céad Míle Fáilte to Sean who started his primary school journey today. We wish everyone an enjoyable and successful school year.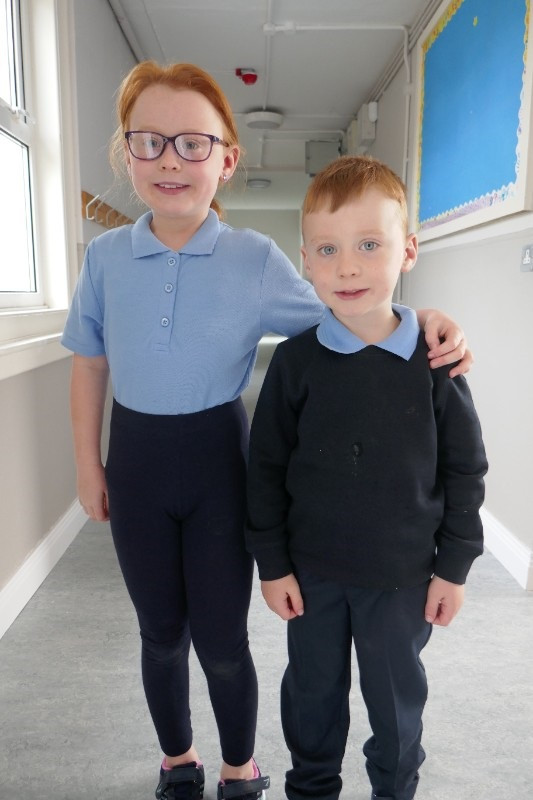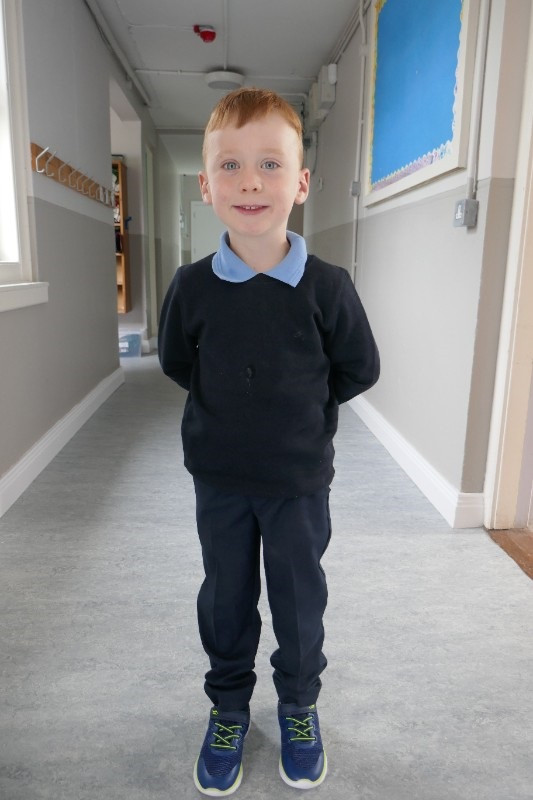 Soccer Blitz
On Friday June 10th, 3rd-6th class participated in a Soccer Blitz at Skyvalley Rovers, organised by Taughmaconnell N.S. We were delighted to be invited and had a great time taking part. This was a non competitive blitz and teams were made up of children from different schools. Thanks to Taughmaconnell N.S. for organising.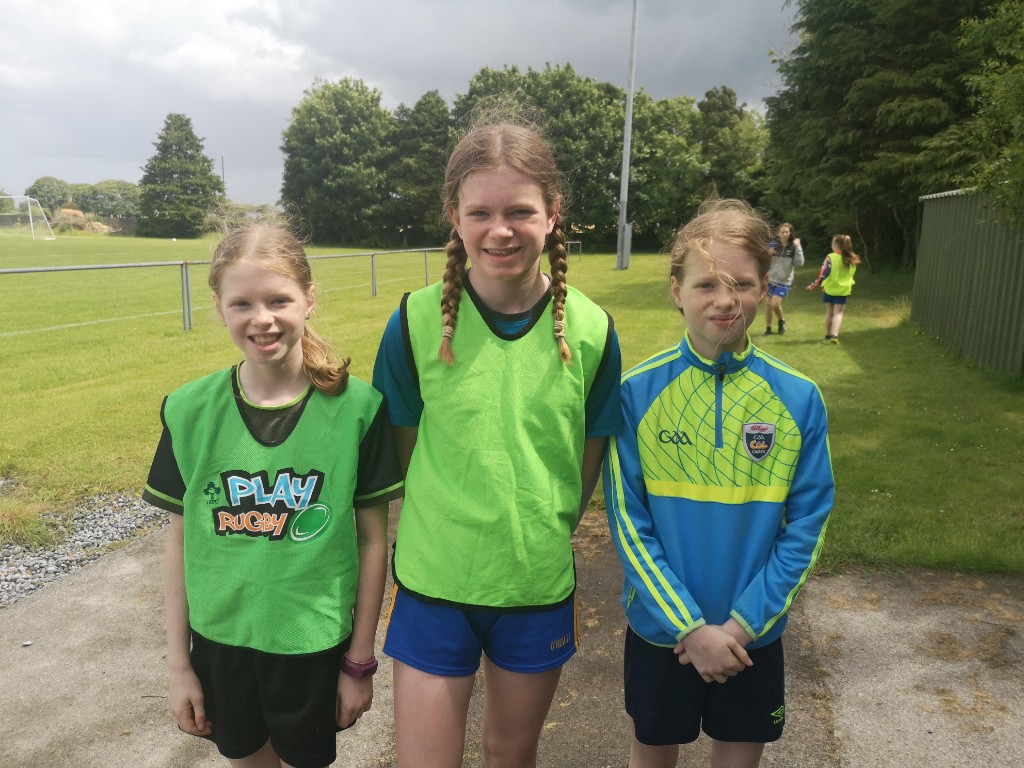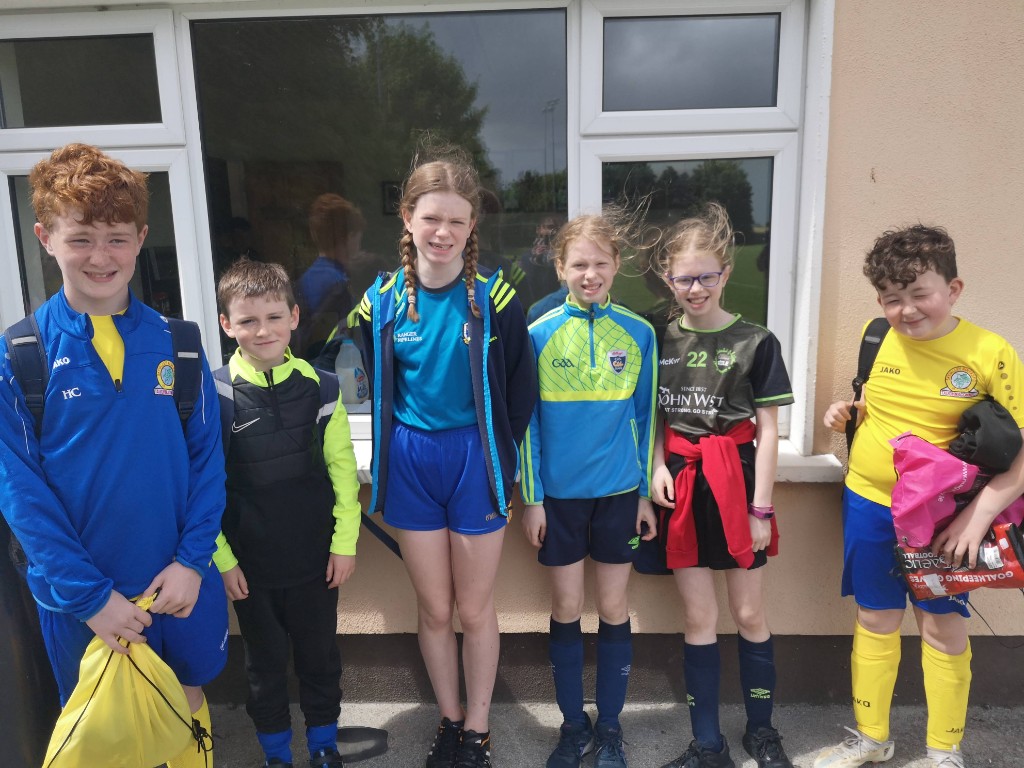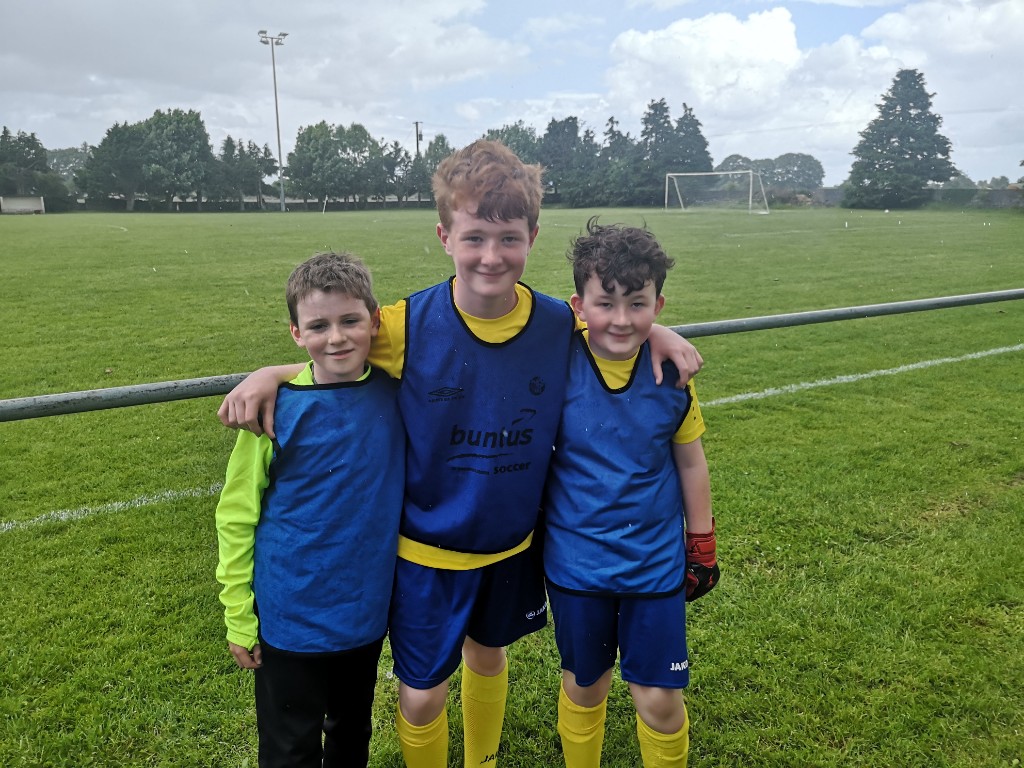 Sensory Me - Junior Class Day Out
The junior classroom paid a visit to Sensory Me in Roscommon on Thursday 23rd June. Sensory Me offers a safe, fun and Sensory friendly environment for people of all ages and abilities to relax, enjoy play and learn in. The children got to experience interactive areas including an interactive floor mat. They got to have lots of fun in the soft play area and sensory ball pool and after all that, they sat back and relaxed in the immersive room and sensory room.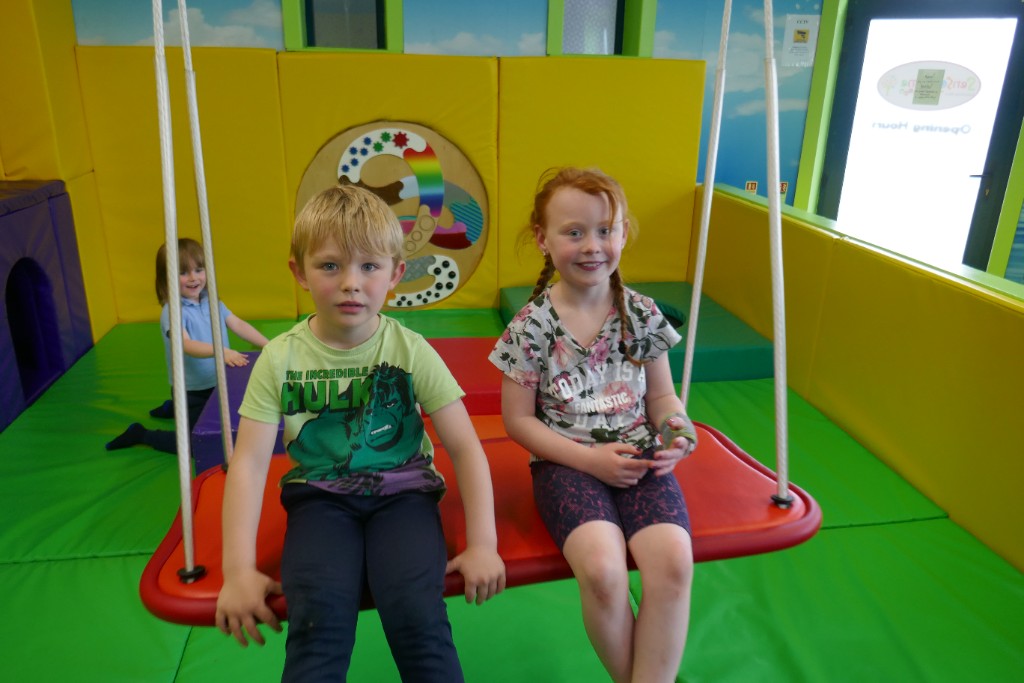 Sports Day 2022
Sports Day took place on June 17th and despite the miserable weather, we still managed to pack lots of fun filled activities into the day. Michael from Schools Fitness Ireland was able to adapt to the poor weather conditions and we did boxercise, yoga and gymnastic indoors. We also played lots of fun games with him. We fitted in some dance and musical chairs too and even invented some games to play in the classroom. There are more pictures to view in the gallery.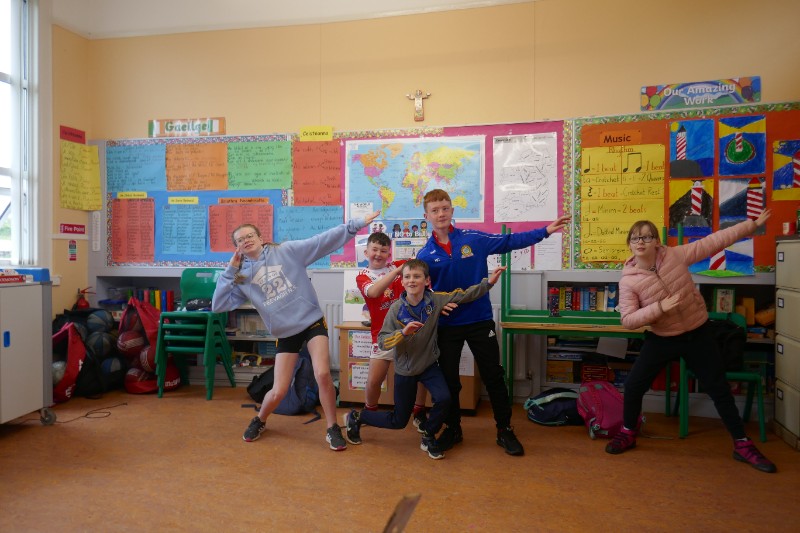 School Tour 2022
We travelled to TUS Athlone for our School Tour and the 'Lets Go!' School Tour Team took really good care of us. We had an action packed and fun filled day travelling down a slide in Zorbee balls and navigating our way to the top of the Climbing Wall. Other activities included the wrecking ball, air mountain and the wobbly ladders. We were all tired by the time we arrived back to school. Go to the Gallery for more photos of our wonderful day.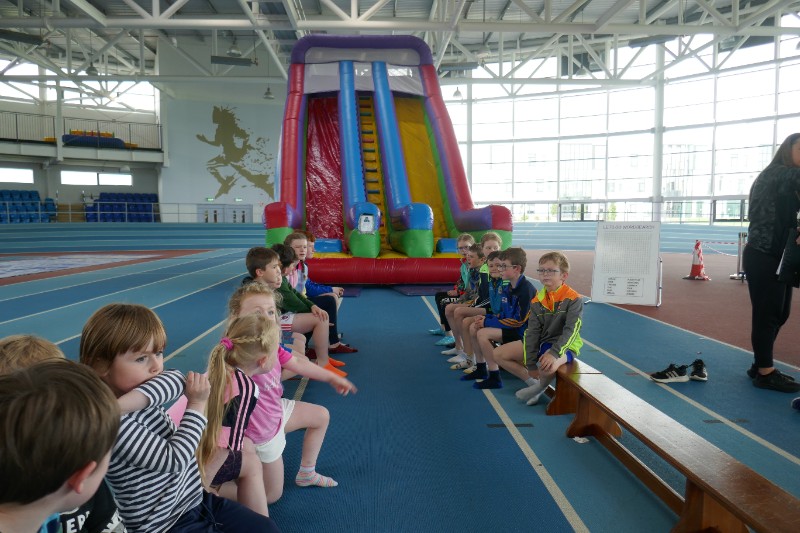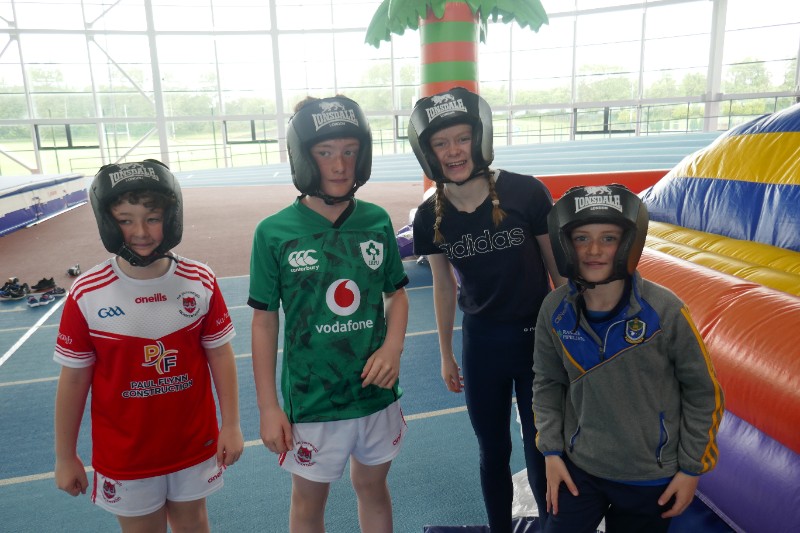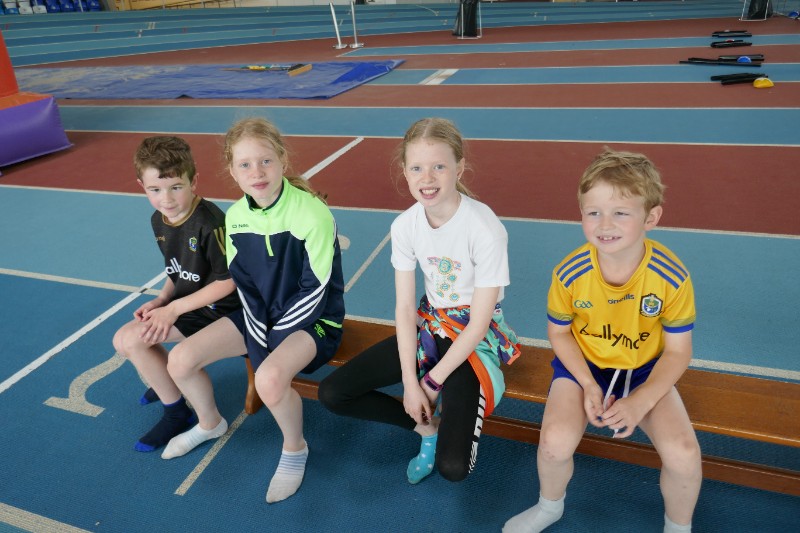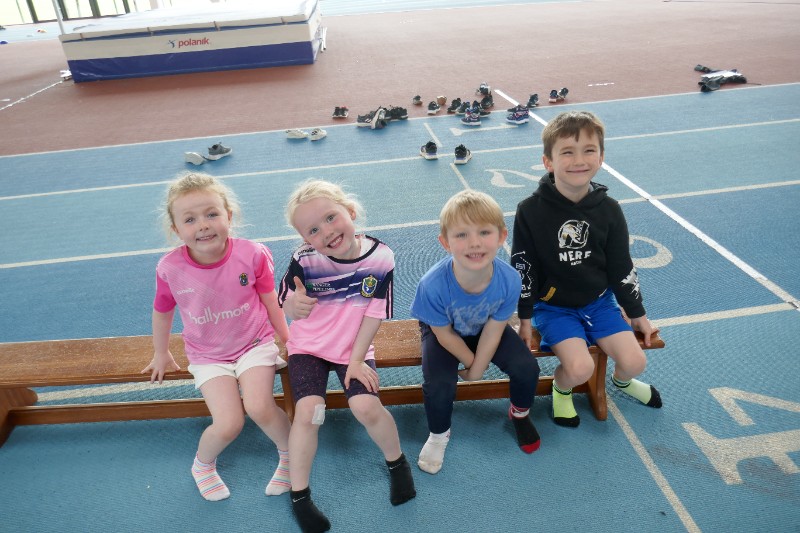 Athletics
Our school is currently participating in a 5 week course of athletics in TUS Athlone. The program incorporates two of the strands on the PE curriculum; Athletics & Games. This is a fun approach to learning the fundamentals of running, jumping, throwing activities & Games. The facilities are world class and the children are very excited to be able to train in the International Athletics Arena.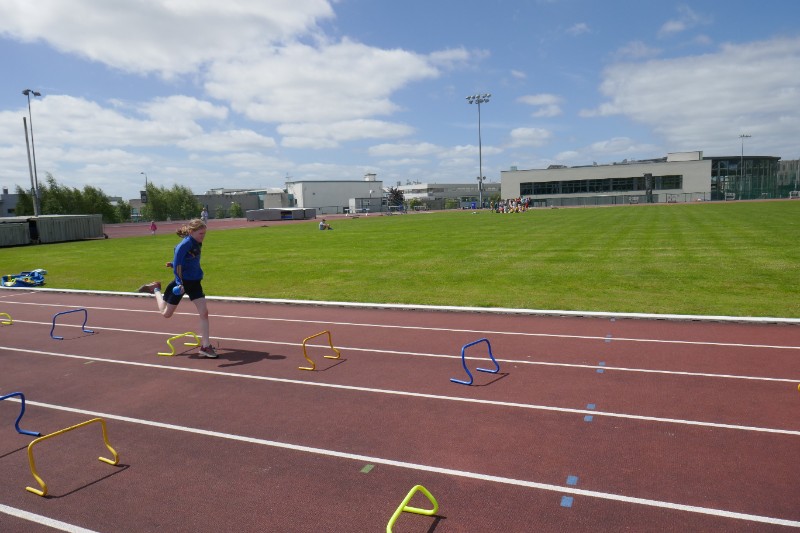 Connacht Final
Our students showed great support for the Roscommon Senior Football team ahead of the Connacht Final on Sunday 29th May in Pearse Stadium. The Roscommon colours were on display in both the junior and senior rooms. Well done everyone!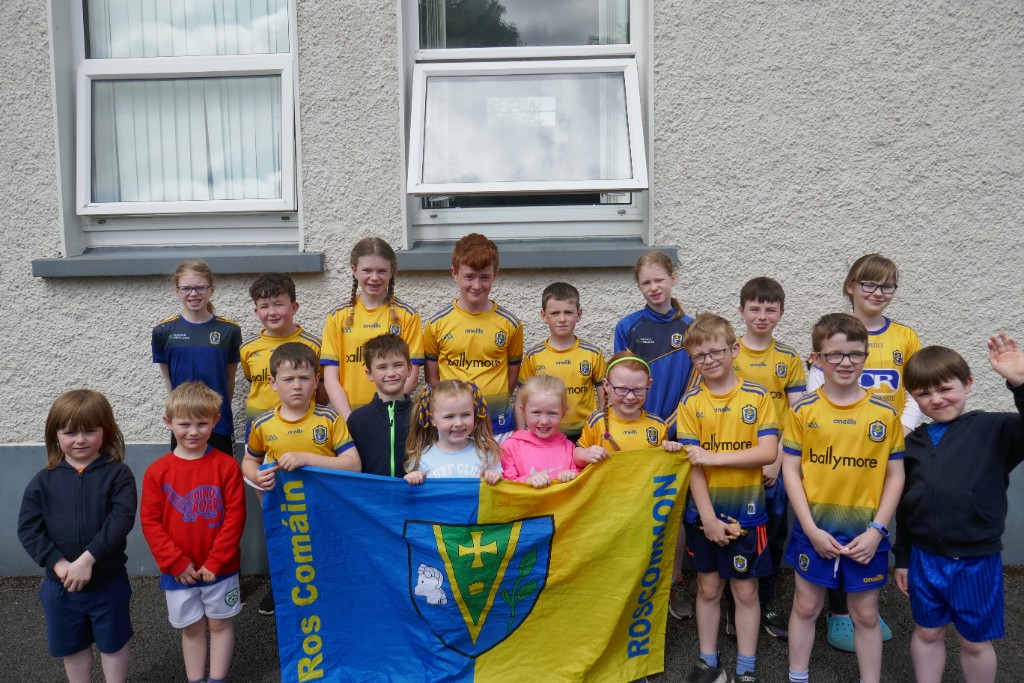 LGFA Football Blitz
The senior girls participated in the LGFA Football blitz in Ballyleague on Thursay 26th May. They joined forces with both Mount Talbot N.S. and Tisrara N.S. and had a great day out. They played with great spirit and enthusiasm and showed great team work and fair play.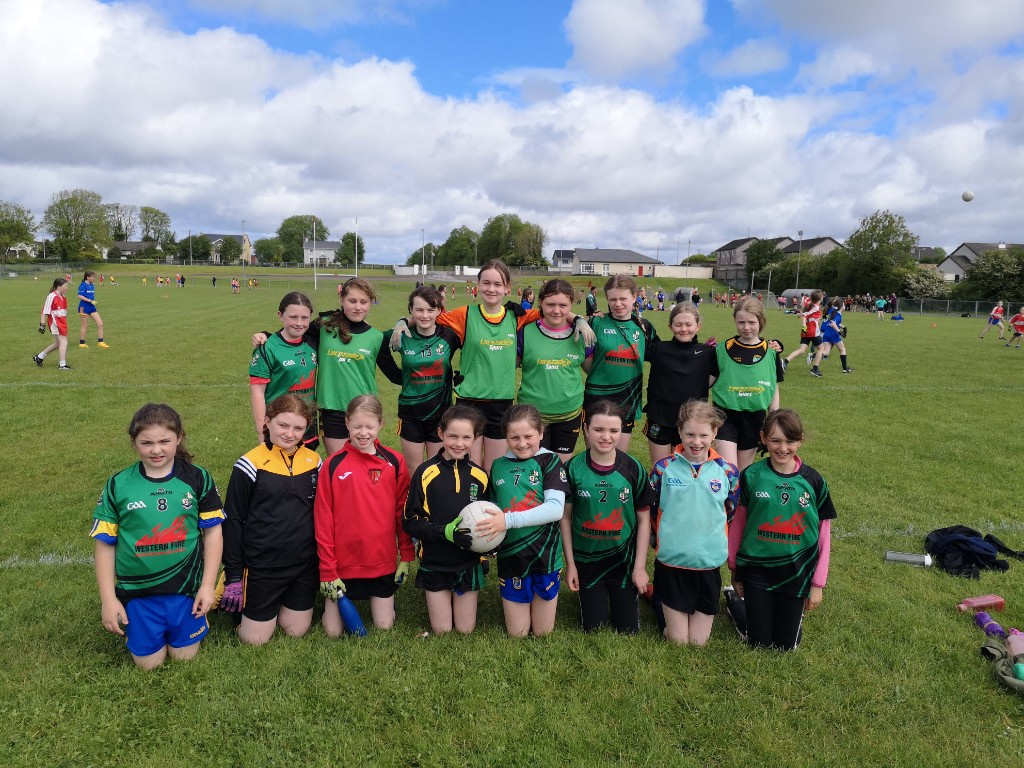 Green Flag Virtual Award Ceremony
We received our 6th Green Flag based on the theme Global Citizenship - Energy in a virtual ceremony on Wednesday 25th May. After the ceremony Mr. Finnerty raised the flag, alongside Harry and Méabh from the Green Flag Committee. Well done to all students and staff on this wonderful achievement.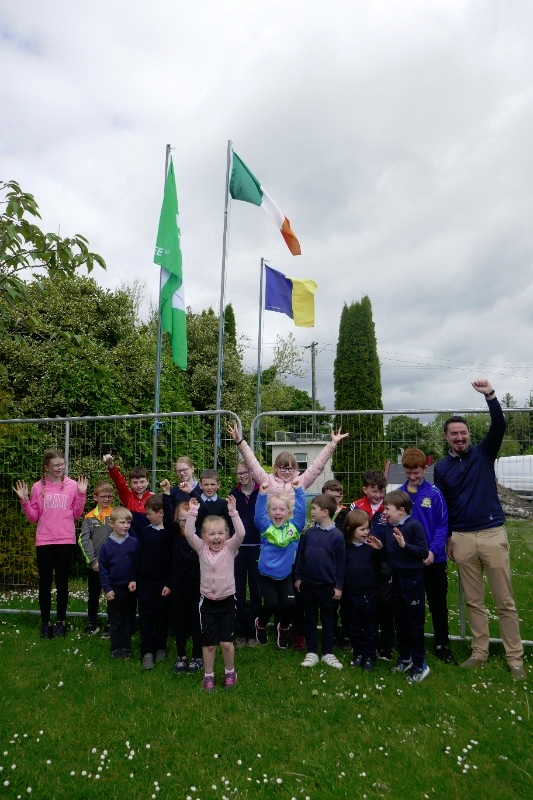 Heritage in Schools
We went on a fossil hunt as part of this weeks session of Heritage in Schools with Martin Curley (24th May). We didn't have to go too far from our school to make some very interesting discoveries. Martin also pointed out and identified some of the beautiful wildflowers growing nearby. Take a look in the gallery for more pictures.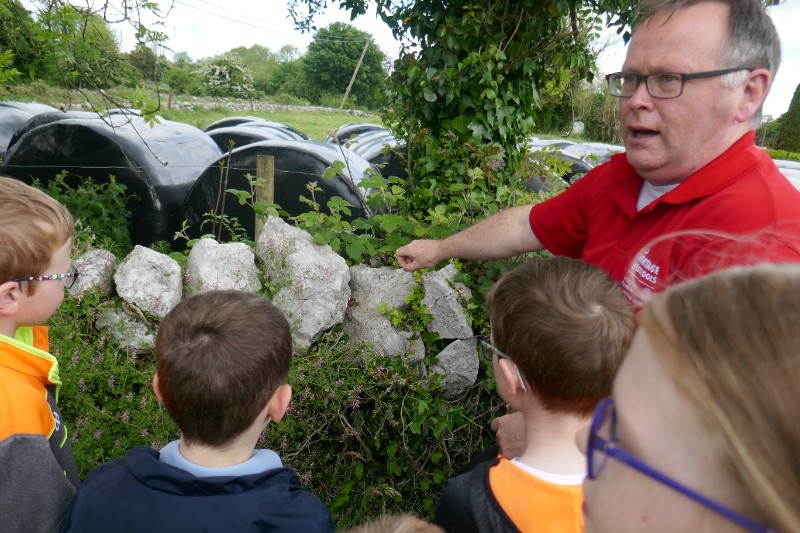 Wildflower Seeds
As part of the 'Keelings Great Rewilding' we have sowed some wildflower seeds. In doing so we are helping to reverse the declining population of bees and other pollinators in Ireland. By encouring wildflowers to grow locally, our small change can make a big difference. We have also sowed wildflower seeds in our Fairy Garde, which we hope will be completed in the very near future.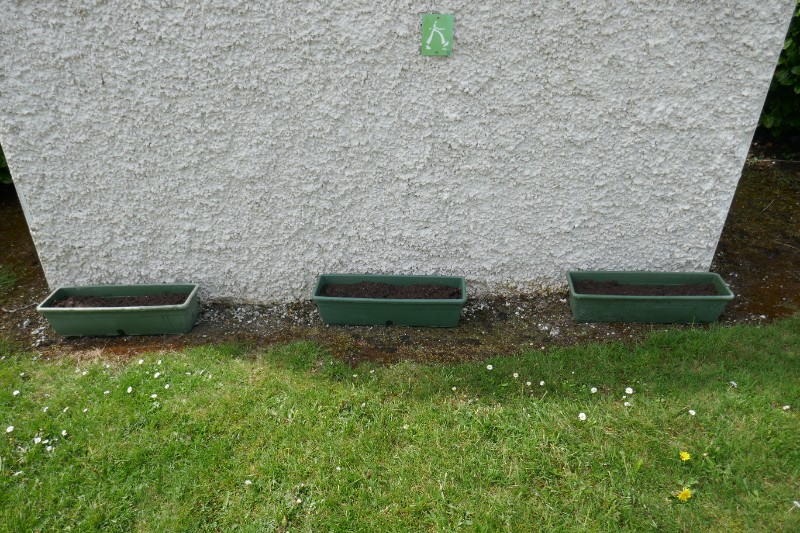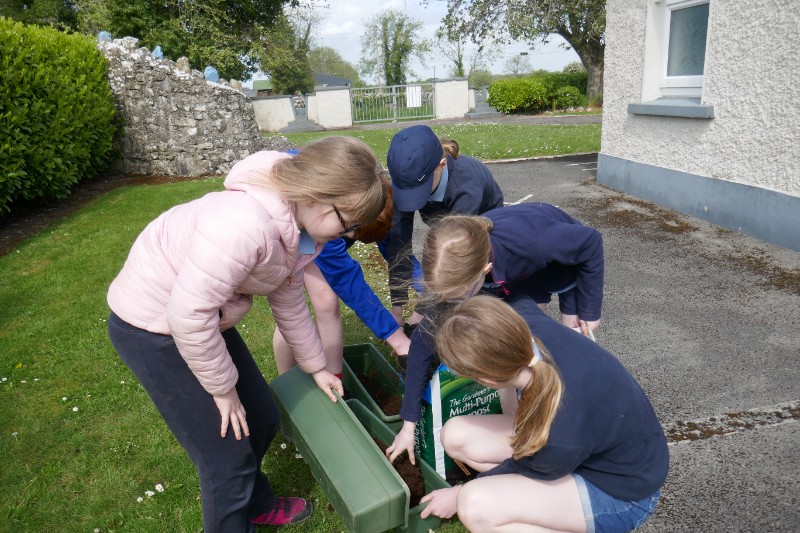 Heritage in Schools
We are continuing our work with Martin Curley and this week (Tuesday 10th May) we were exploring census information and old maps. We could then compare the old maps with the new satellite maps. We went on a lovely walk discovering houses that had been once occupied many years ago. Using the information we had researched, we could figure out who had lived in the houses. Go to the Gallery for more pictures.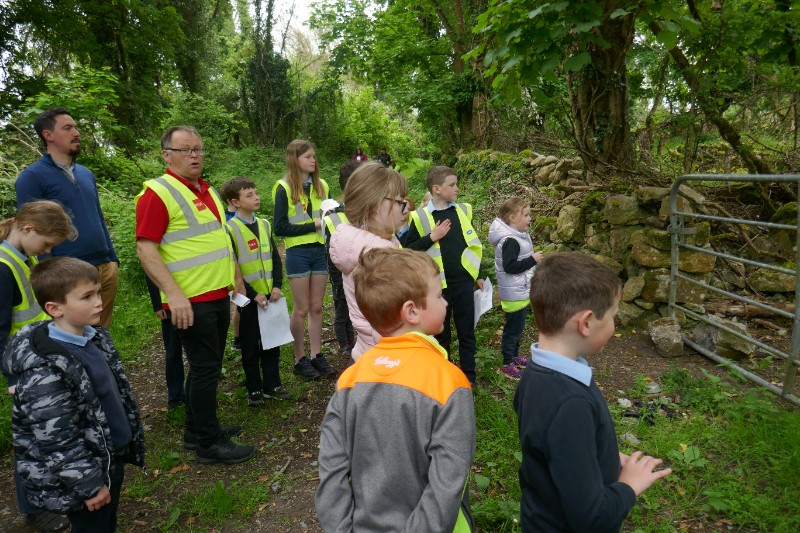 Camogie and Hurling
The Cumann na mBunscol Hurling and Camogie competitions took place in Ballyforan Pitch (St. Aidan's) on Thursday 12th May. The children from Mount Talbot N.S. and Feevag N.S> came together to form the team, Mount Feevagh. We had a great day out and got to play plenty of matches. Congratulations to the girls who qualified for the final.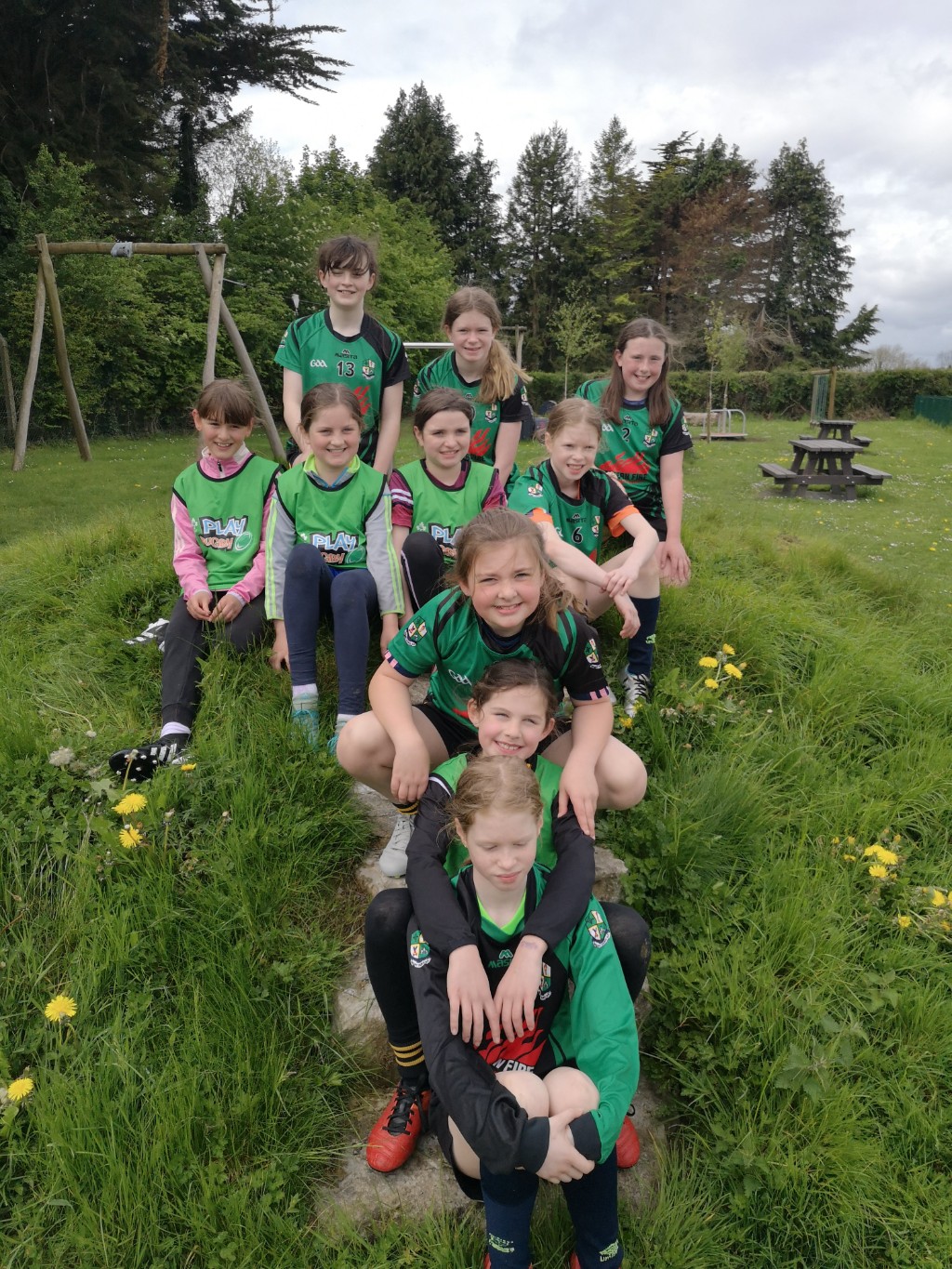 Garda Road Safety Art Competition
Congratulations to our 5th and 6th class students who received prizes in the Garda Road Safety Art Competition. The prize giving ceremony took place on Wednesday 4th May in Roscommon Arts Centre.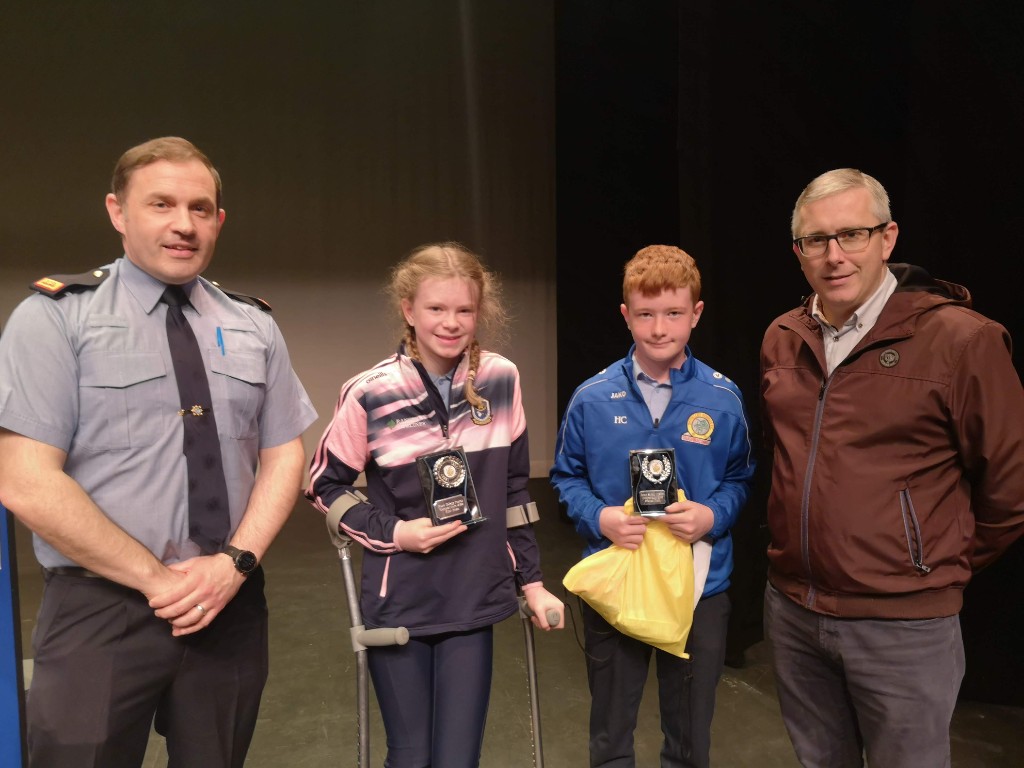 Credit Union Virtual Quiz
The Senior Classes participated in the Credit Union Schools Quiz virtually on Thursday 28th April. Primary school students across Co. Roscommon and all of Ireland were invited to participate in this year's online quiz via Youtube. Fergal D'Arcy presented the quiz and there was great fun competing against one another. Well done to Méabh for winning!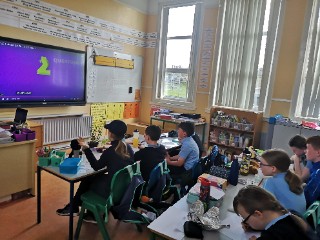 Heritage in Schools
The Heritage in Schools Scheme provides a panel of Heritage Specialists who visit primary schools to help children and their teachers learn about and appreciate their local heritage. The Scheme supports the Social, Scientific and Environmental Education (SESE) curriculum. Martin Curley (Heritage Specialist) will visit the school over the next few weeks and teach the children about their local area. Our first session involved using Geohive to explore maps of Feevagh and the surrounding areas. We compared how the maps look today and how they looked in the 1800s and could compare settlements/bogs/wetlands etc. This was a very informative session and we look forward to our next session.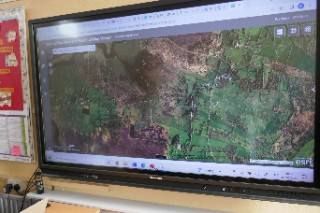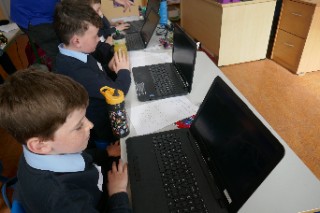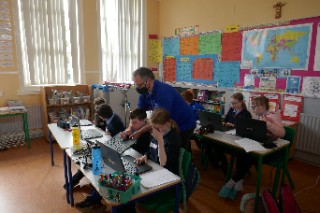 Cumann na mBunscol Football
The children participated in the 7 a-side Cumann na mBunscol football competition on Wednesday 27th April. We joined forces with Mount Talbot N.S. and formed the team, Mount Feevagh. We travelled to Padraig Pearses GAA pitch and the weather was fantastic for a few games of football. The children played excellently and displayed fair play and team work in all their games. They represented our school with pride. Well done boys and girls!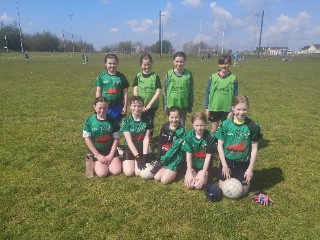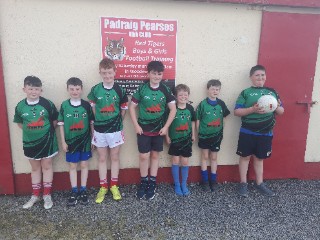 Basketball Blitz
We participated in the Roscommon Primary Schools Basketball Blitz on Tuesday 26th April in The Hub, Castlerea. The children played excellently and showed great spirit and team work throughout the day. We won two games and lost two games. We had a great day out!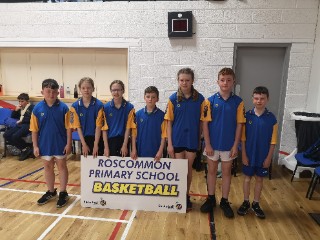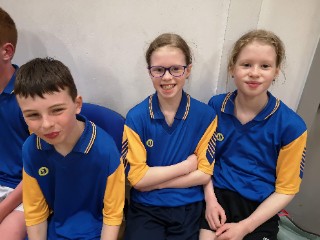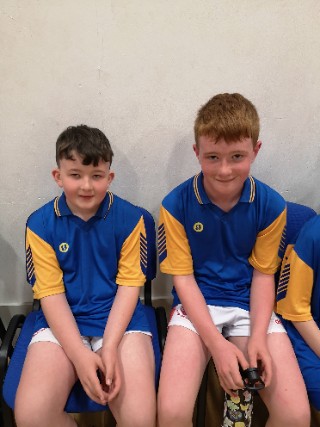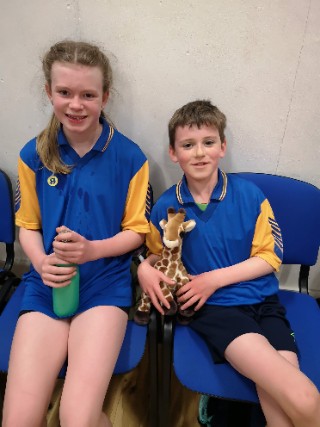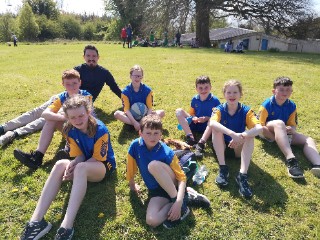 Easter Egg Hunt
As the last activity for Friendship Week, we had an Easter Egg hunt around the school grounds. The senior students were partnered with the juniors and had to work as a team to find all the eggs. Some were quite difficult to find, but in the end, all eggs were accounted for!!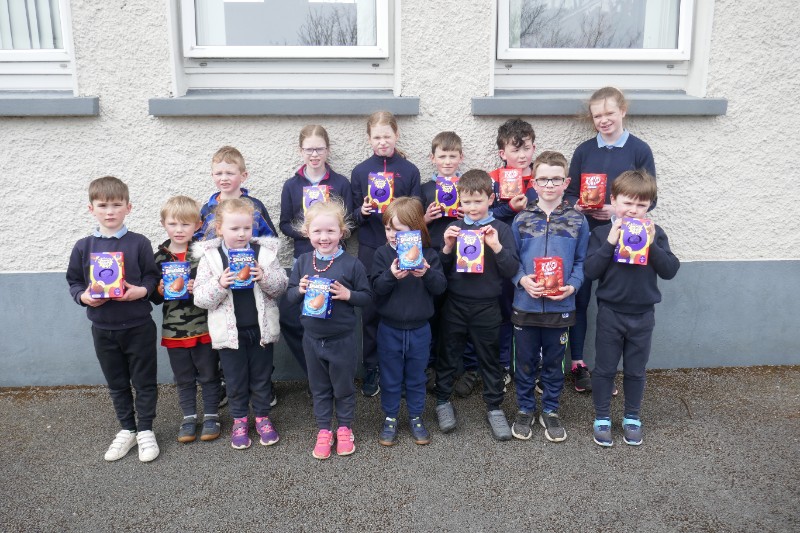 Minecraft Education Edition
Children in the senior classroom participated in a virtual workshop from Microsoft Dream Space. The students were shown how they can be Active Citizens by exploring a newly released world. They also received their certificates for participating in the 'Ireland's Future is Mine' competition.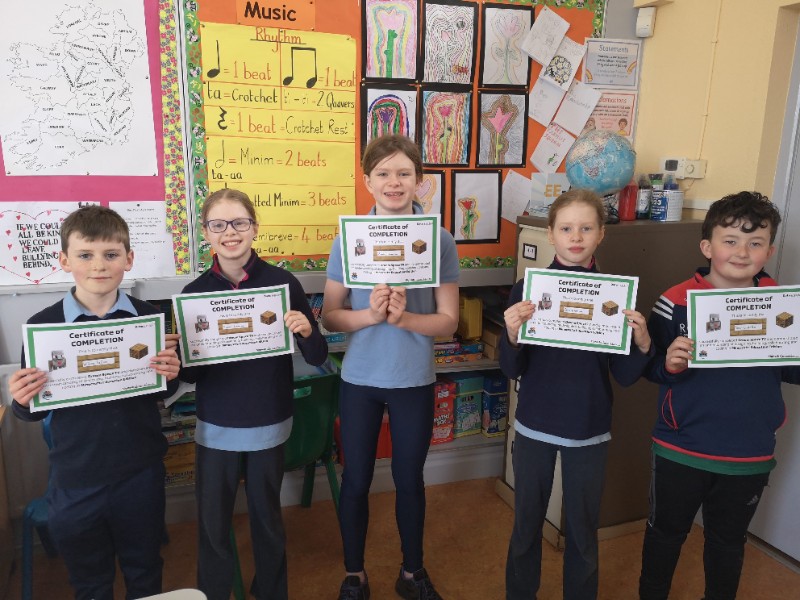 Friendship Week 2022
This week (April 4th to 8th), we are participating in Friendship Week. On Tuesday, the senior room organised a whole school game of soccer, getting everyone involved. Alternative games and activities were also organised. On Wednesday, the senior room prepared the ground for sowing wildflower seeds in our Fairy Garden and the junior room, carefully sowed the seeds. This was a task that invovled working together, while sowing the seeds of friendship! For more pictures, go to the Gallery.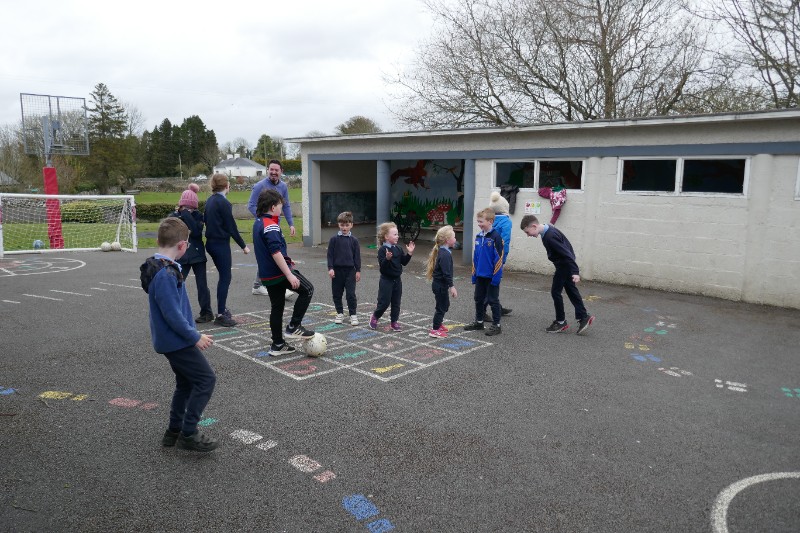 Confirmation
Congratulations to our 6th Class pupil, Méabh, who received the sacrament of Confirmation in St. Patrick's Church, Dysart on Thursday 24th March.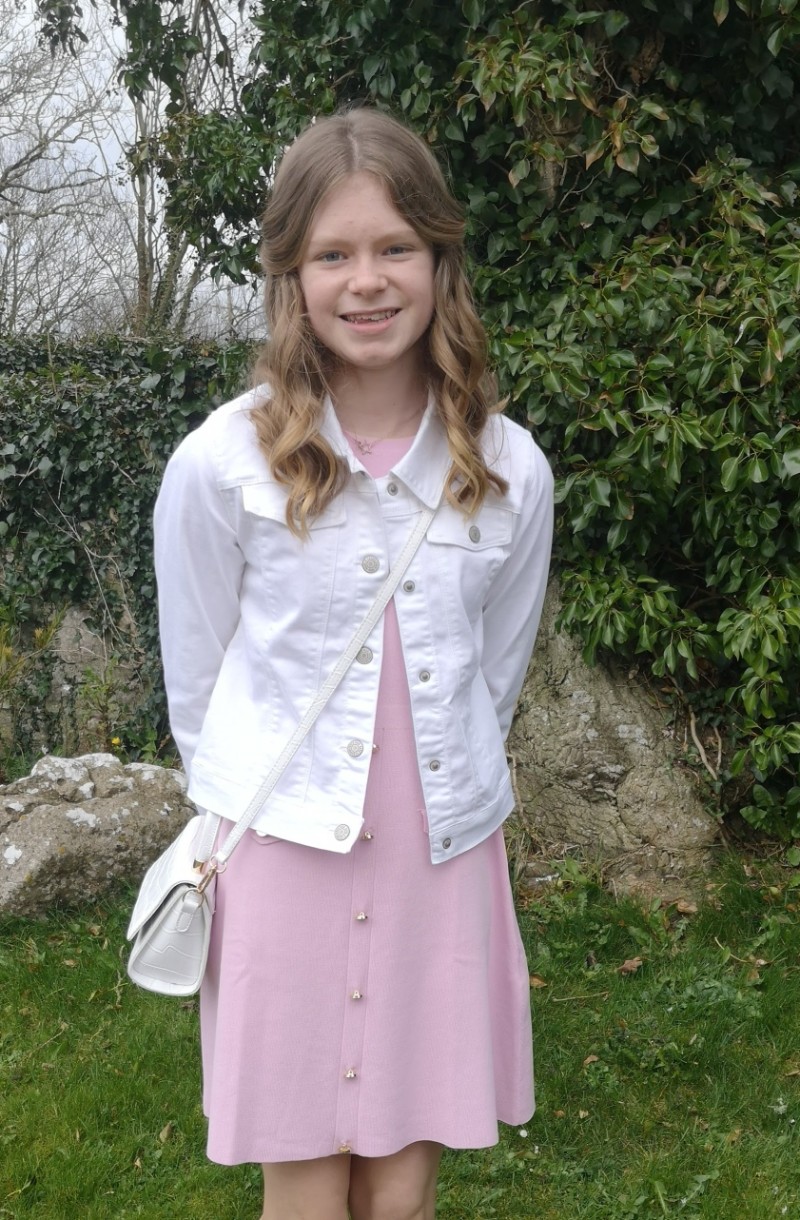 Incrdible Edibles
We sowed out seeds for our Agri Aware Incredible Edibles Project. The seeds included, lettuce, carrots, seed potatoes, chives, spinach and some strawberry plants. We look forward to planting them out once the weather improves. There are more pictures in the Gallery.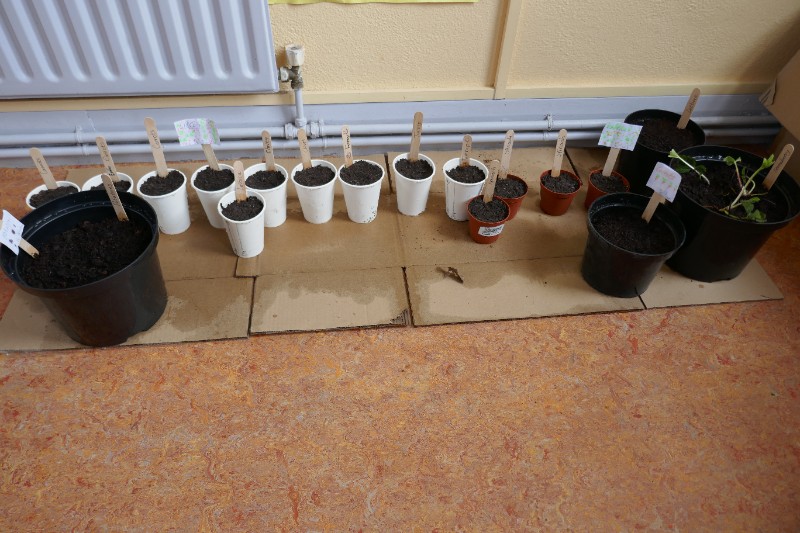 St. Patrick's Day
Everyone dressed in green for our 'Lá Glas' to mark St. Patrick's Day.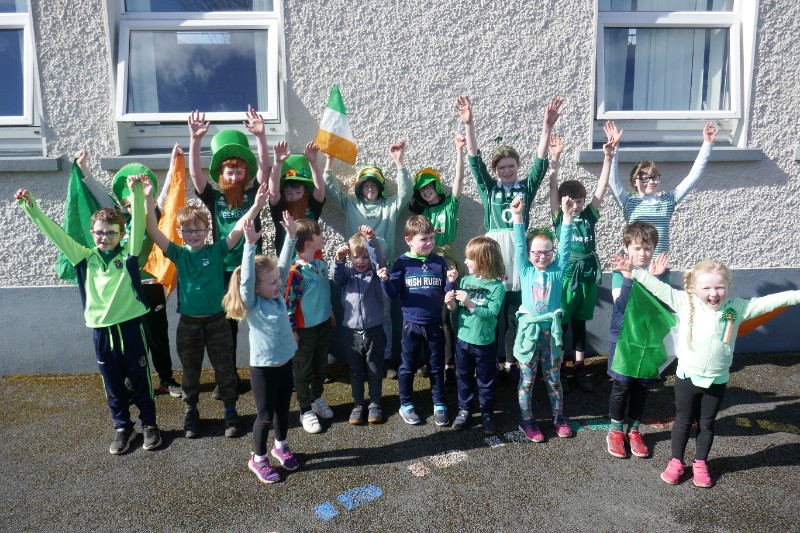 Engineers Week 2022
Engineers week ran from 5th to 11th March this year and the children in Feevagh N.S. were engaged in lots of activities to mark the week. Take a look at some more pictures in the Gallery.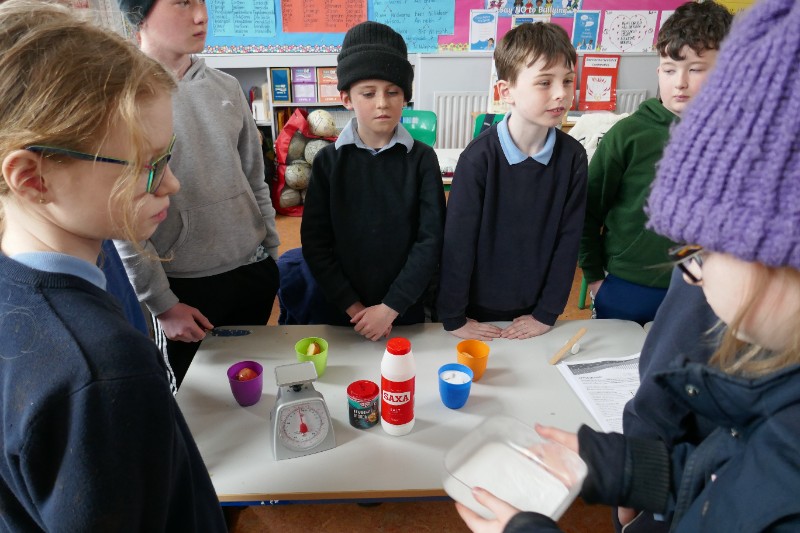 World Book Day
The children made a super effort dressing as a character from their favourite books for World Book Day 2022. Go to the [Gallery] to view their wonderful costumes.
Pancake Tuesday 2022

The senior classroom made pancakes for the school on Pancake Tuesday. We had great fun making the batter and we even got to try flip our own pancakes. They were delicious. To view more pictures go to [Gallery]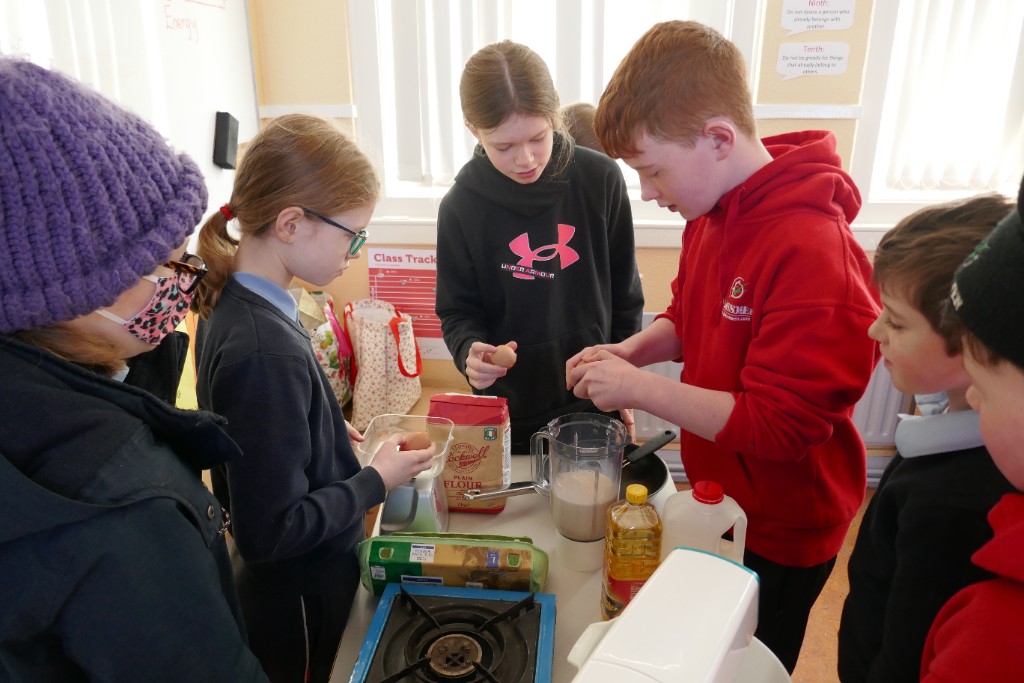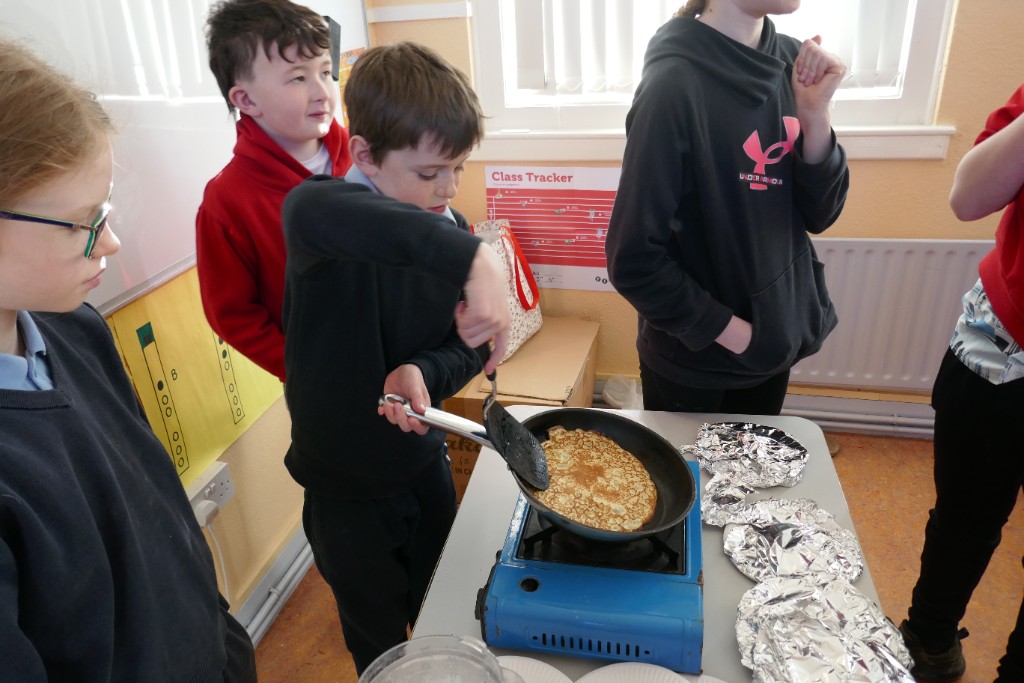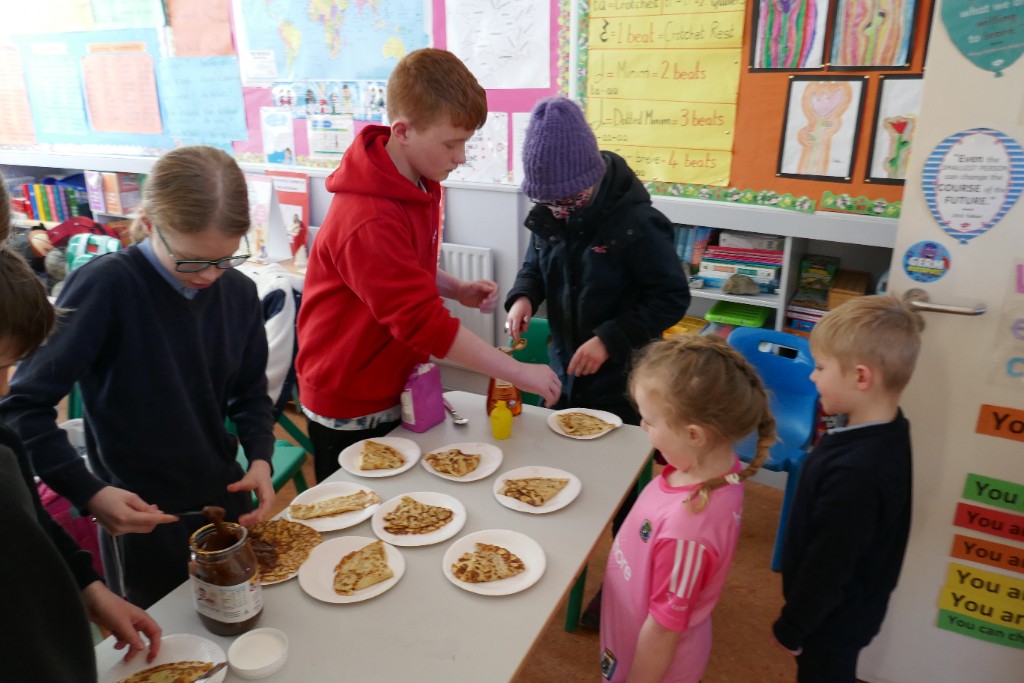 Hour of Code
The senior room took part in an Hour of Code on Wednesday 23rd February, thanks to Kirsty from Microsoft. We coded a game that recreated the conditions for a forest fire, and then coded a fire-fighting airtanker plane to spray water and put out the flames.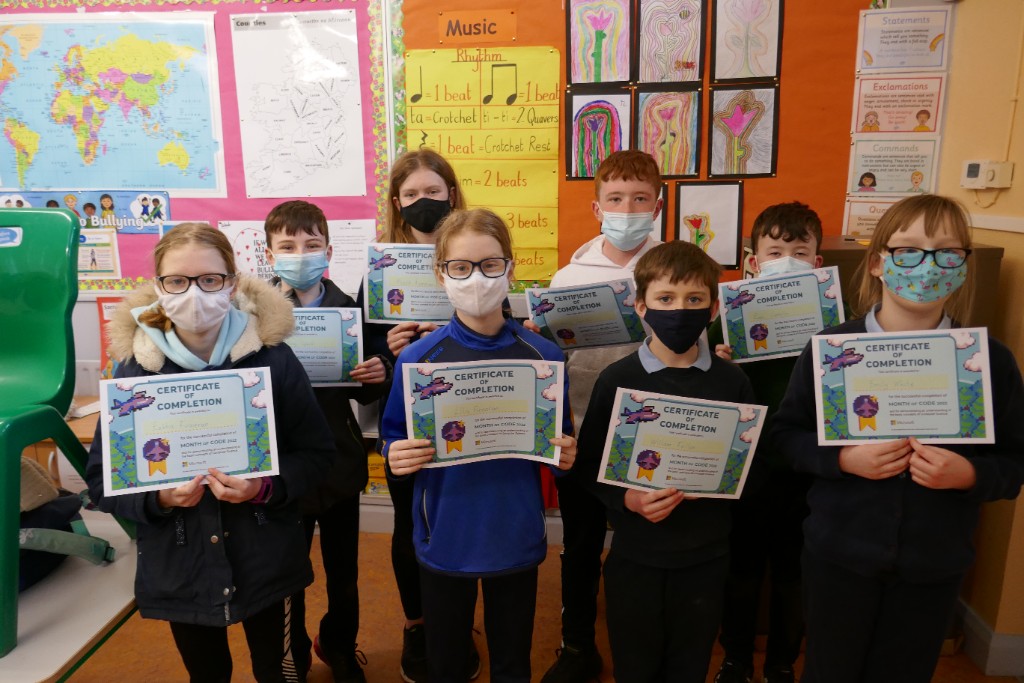 Zoom Call with a Cheese Maker
The senior classroom had a Zoom call with Teresa Roche from Kylemore Farmhouse Cheese on Wednesday 23rd February. This was part of our Agri Aware Incredible Edibles Project. Teresa spoke about her family farm and how she set up her cheese making business. The cheese is fully traceable and sustainable from farm to fork. They use their own cow's milk to make the cheese. We got to sample some of the delicious cheese after the call. Thanks to Teresa for giving up time from her busy schedule to talk to us.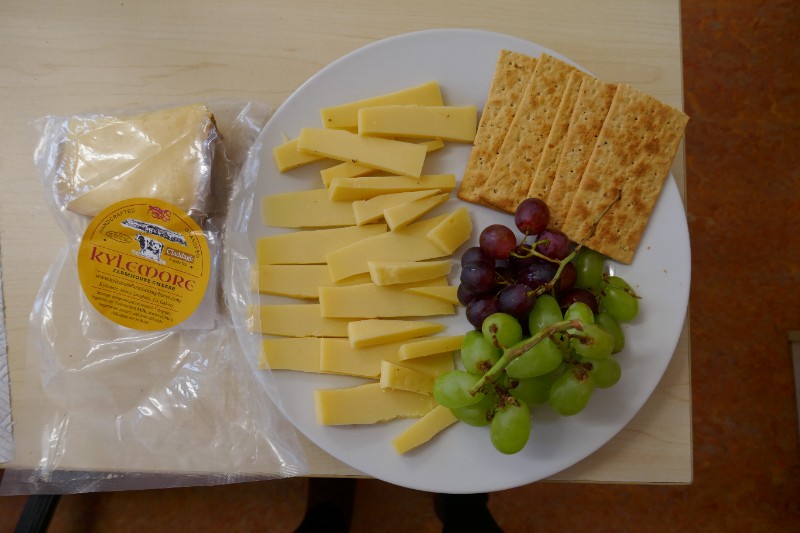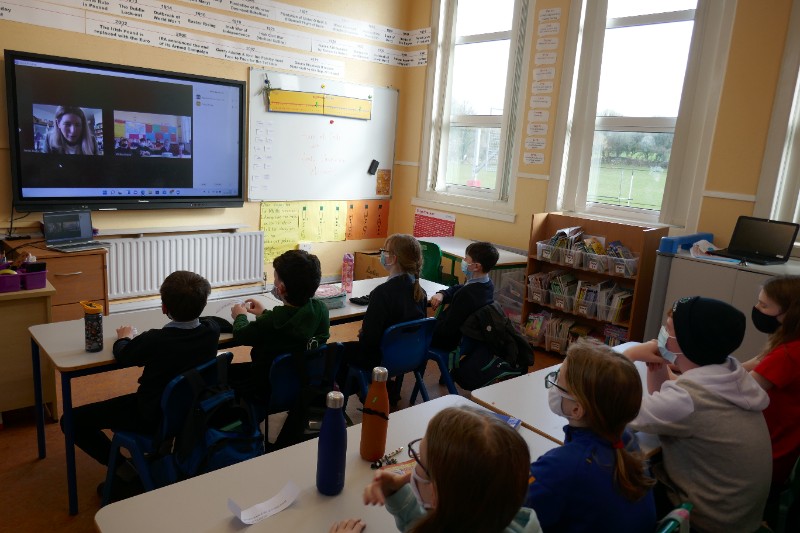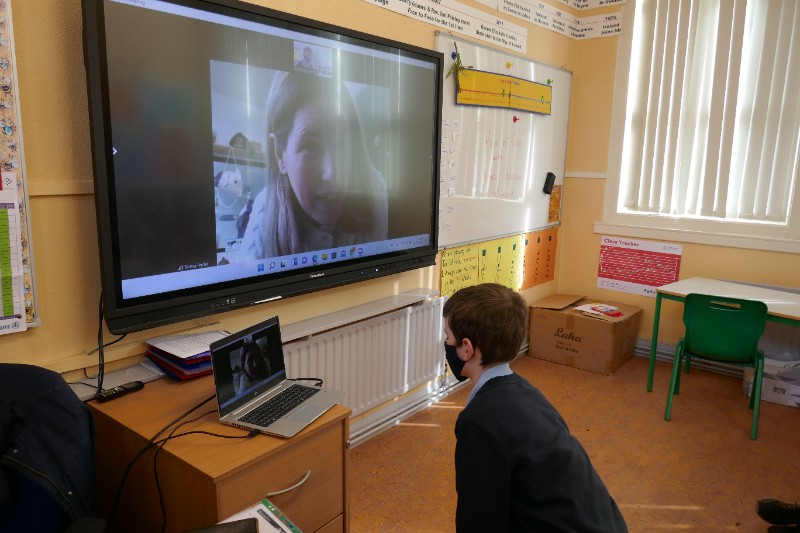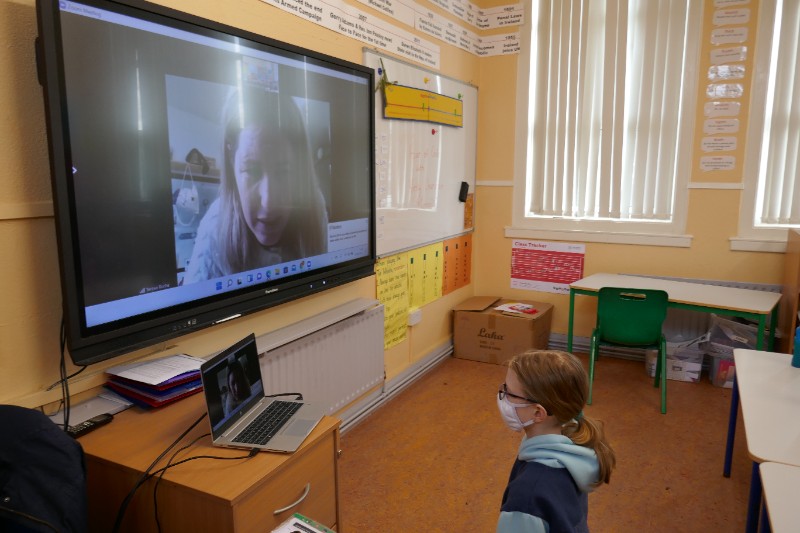 Safer Internet Day 2022
Safer Internet day took place on Tuesday 8th February and the children in Feevagh N.S. participated by engaging in lessons from webwise (Irish Internet Safety Awareness Centre), specifically designed for children in primary schools. The lessons will continue in the coming weeks. #SID2022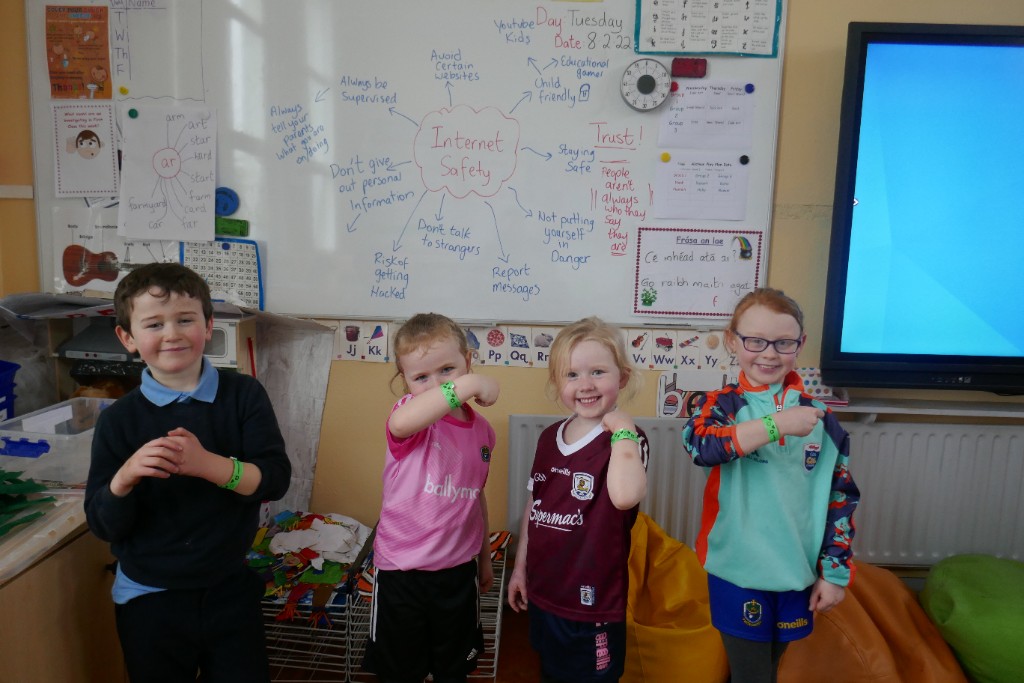 DSPCA Zoom Talks
Children in both Junior and Senior classes participated in a Zoom meeting with Anne from the DSPCA on Friday 11th February. Anne is a volunteer with the DSPCA and spoke about empathy and kindness and basic animal needs, the work of the DSPCA and basic environmental responsibility.

BLAST (Bringing Live Arts to Students and Teachers)
We are currently more than half way through our participation in the BLAST arts initiative. The aim of this scheme is to give pupils in schools all over the country the opportunity to work with a professional artist on unique projects, to be originated and planned between the artist, the teacher and the school, under the coordination of the Education Support Centres. This initiative supports children and young people for the future, where skills like the ability to connect and collaborate with others is paramount. Children also engage in creative and critical thinking and practice inclusivity at every level. We are grateful to have dance artist Catherine Donnelly visiting our school weekly and we thank Athlone Education Centre for the opportunity to participate in the scheme.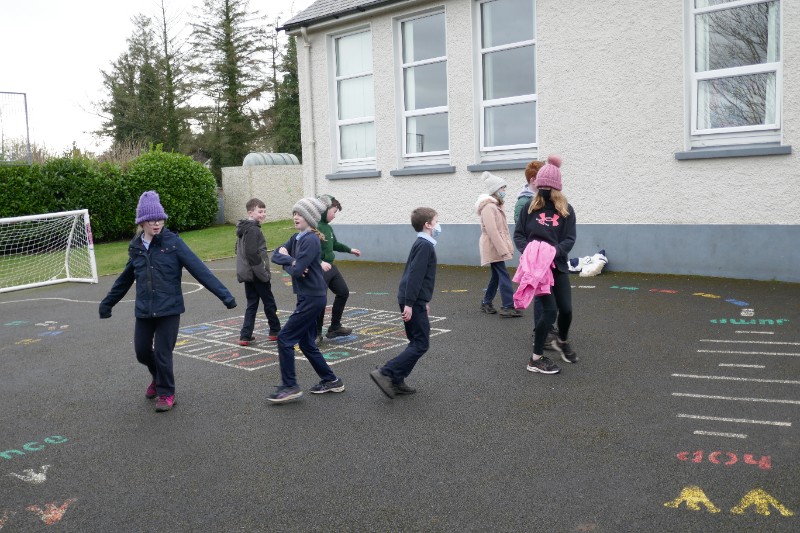 Hurling/Camogie
Hurling and Camogie training continues every Tuesday with Prionsias. We have great fun every week developing our skills and playing games. View some pictures in the Gallery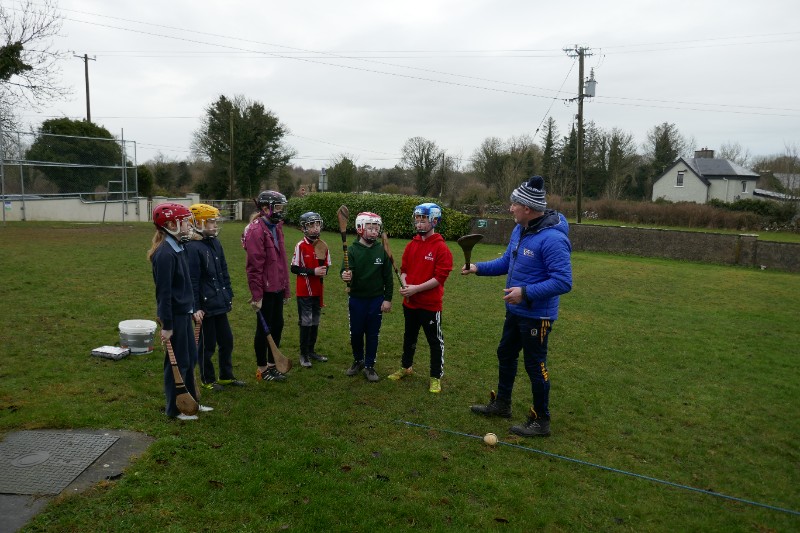 St. Brigid's Day
To celebrate St. Brigid's Day the children in Feevagh N.S. made crosses. St Brigid is accredited with first creating the unique cross which bears her name. This cross is normally hand created from rushes however occasionally straw is also used. The distinctive St. Brigid's Cross design, made from woven rushes, is thought to keep the homes in which it is displayed safe.Our students made St Brigids crosses today continuing the tradition on making them her Feast day. To view more pictures, go to [Gallery]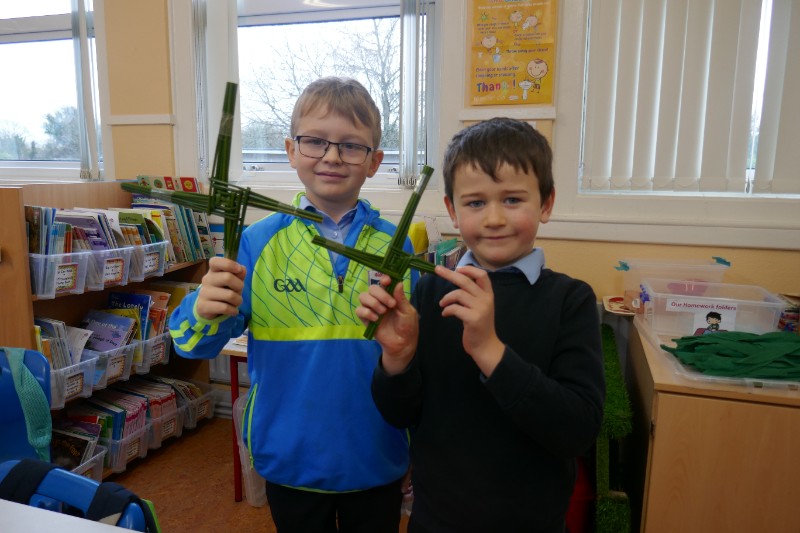 Artists in Schools
Louise Shine, visual artist, worked with the children in both the senior and junior room for five weeks as part of the Artists in Schools Scheme. This initiative is funded by Roscommon County Council and we were delighted to be selected for participation. The children enjoyed working with Louise and produced some amazing pieces of art. For more pictures of the work visit the Gallery
Green Schools School Clean Up
As part of our participation in the Green Schools Programme, the children were involved in a clean up around the school yard and the local roads. The junior room stayed within the school grounds and the senior room ventured a little further afield. The children did a fantastic job and lots of rubbish was collected.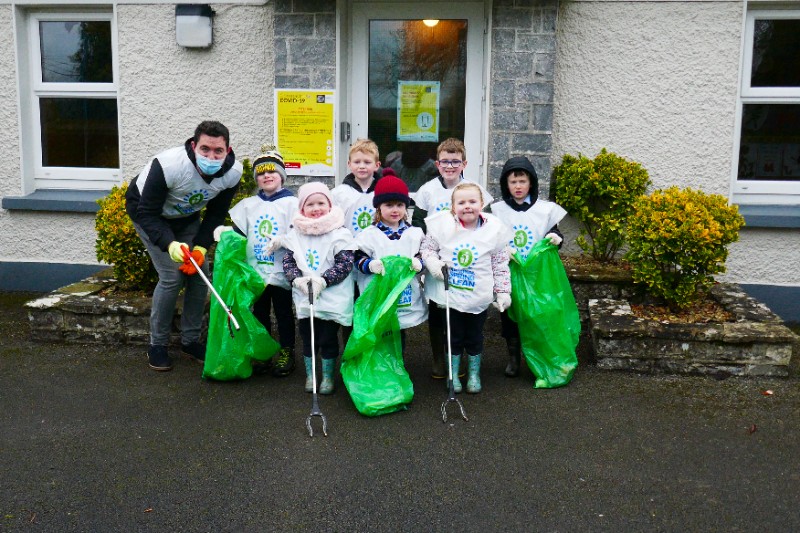 Team Hope Christmas Shoebox Appeal
A big thank you to our students who participated in the Team Hope Christmas Shoe Box Appeal, either by sending in a shoe box to school or by donating online. This is a great cause that will make many less fortunate children very happy this Christmas.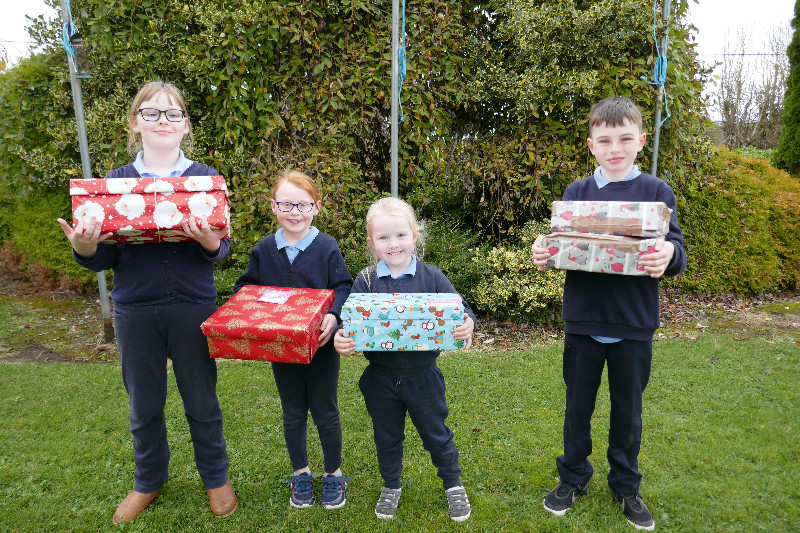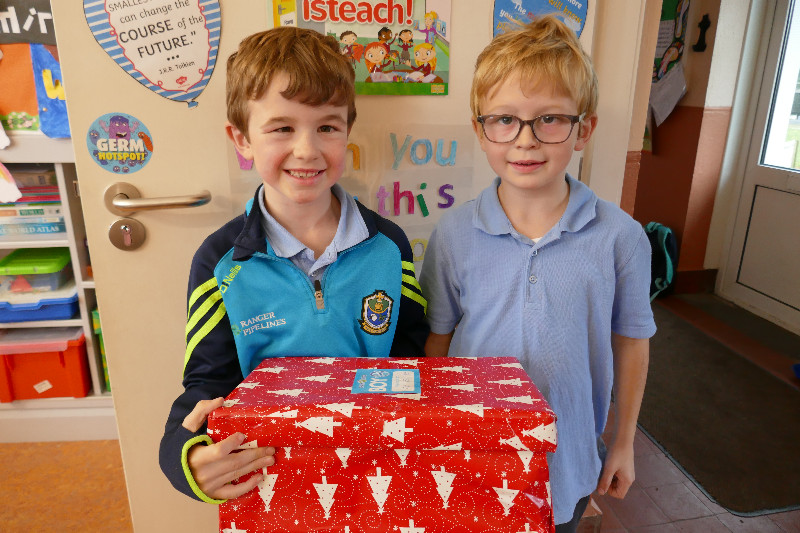 Junior Achievement Ireland
On Tuesday 2nd November, the senior classes had a virtual visit from Luke Ming Flanagan, MEP. Junior Achievement Ireland organised this virtual 'Ask Me Anything' session for Roscommon Primary Schools as part of the 'Communicating Europe' initiative, run by the Department of Foreign Affairs and Trade. Luke answered questions about Climate Change and Brexit, among other things, and told us all about his busy life as an MEP.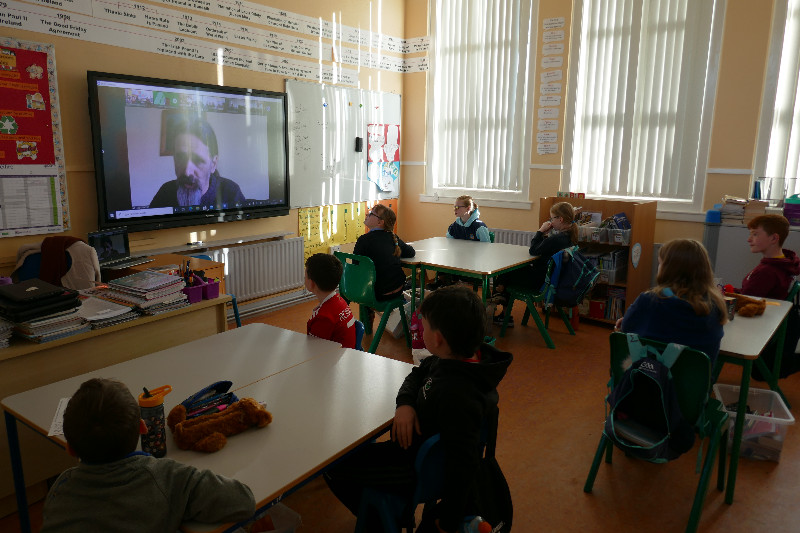 Happy Halloween
Wishing everyone a Happy Halloween. On Friday 22nd October the children dressed up in their fantastic Halloween costumes. Take a look at some of our Halloween art too!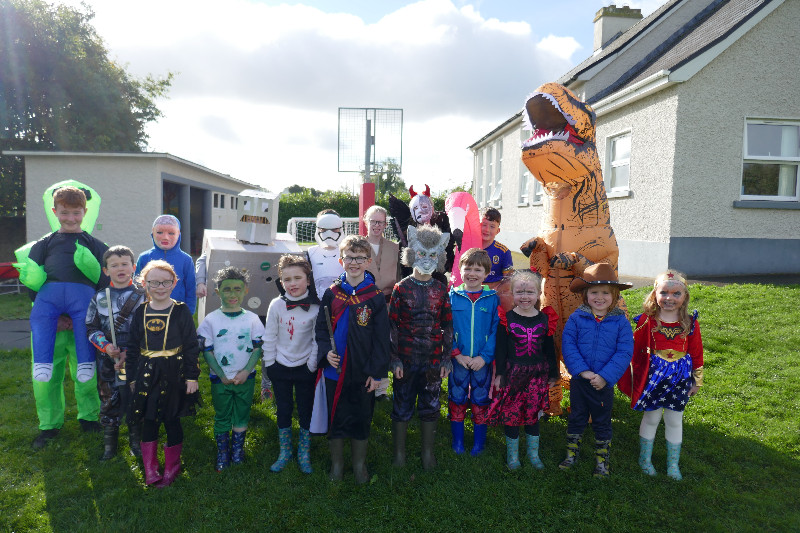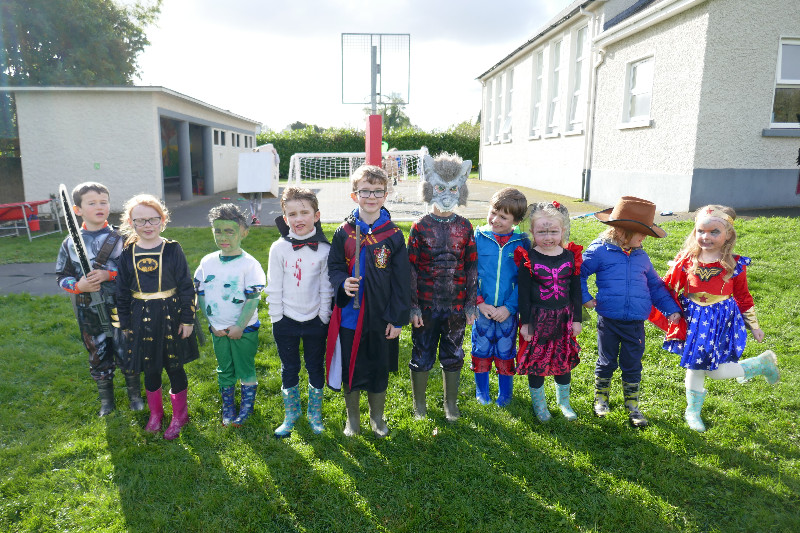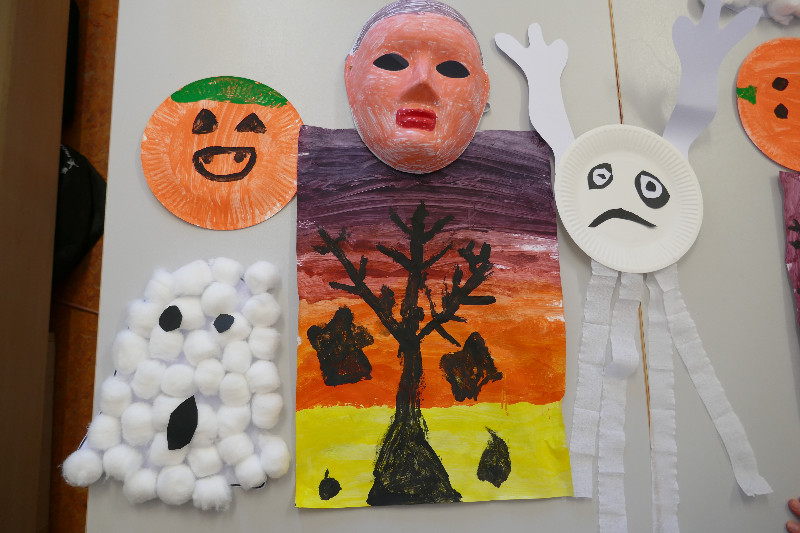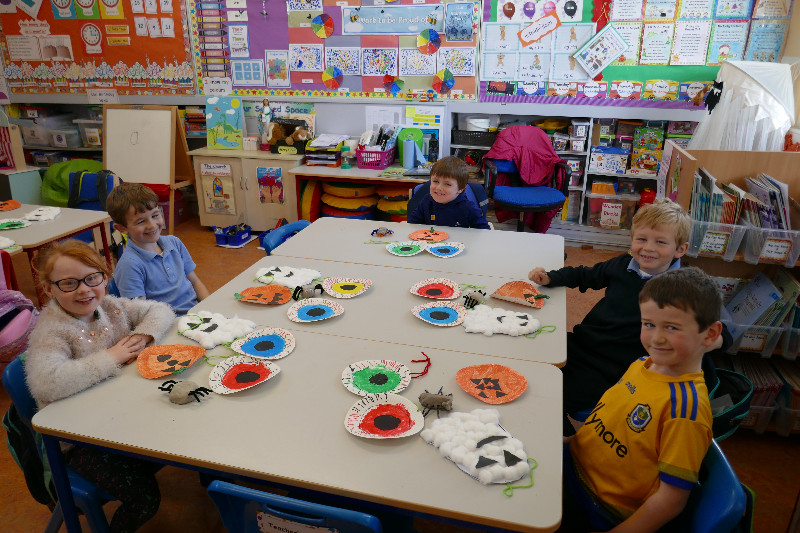 Click here to view more images in the gallery
Minecraft Education Edition
RTÉjr and Microsoft Ireland have joined forces to launch a new competition challenging primary school students across the island of Ireland to use Minecraft: Education Edition to help shape Ireland's digital future. Children in the senior room of Feevagh N.S. have been participating in weekly online episodes with the Dream Space TV crew learning how to use Minecraft: Education Edition with lots of fun challenges! These challenges are aligned to the curriculum covering subjects from English, Maths, Science, geography, SPHE and more. After 6 weeks of participation, the children should be ready to enter the 'Ireland's Future is Mine' competition.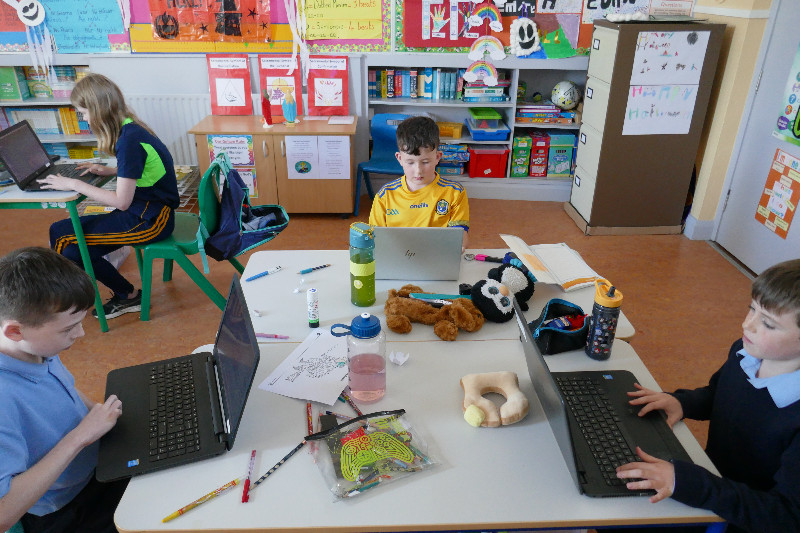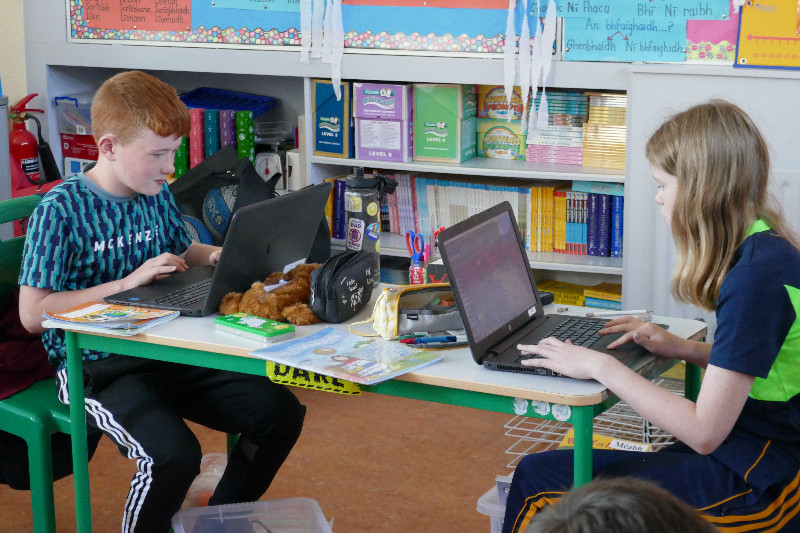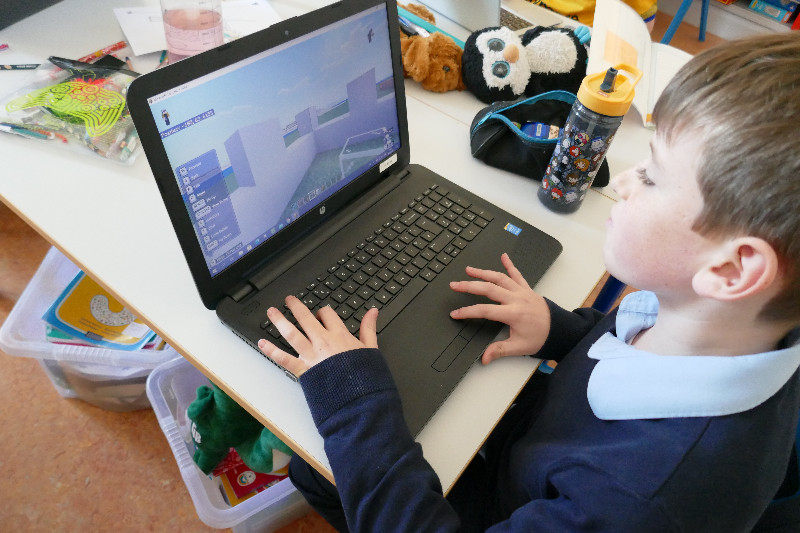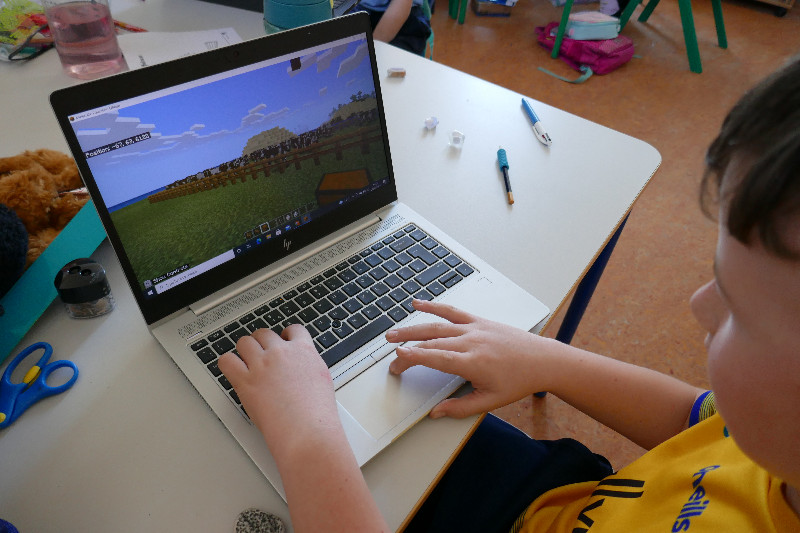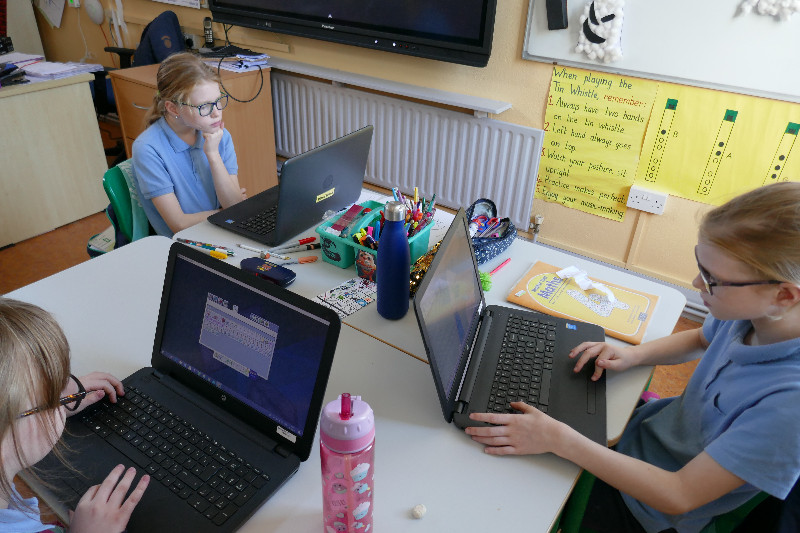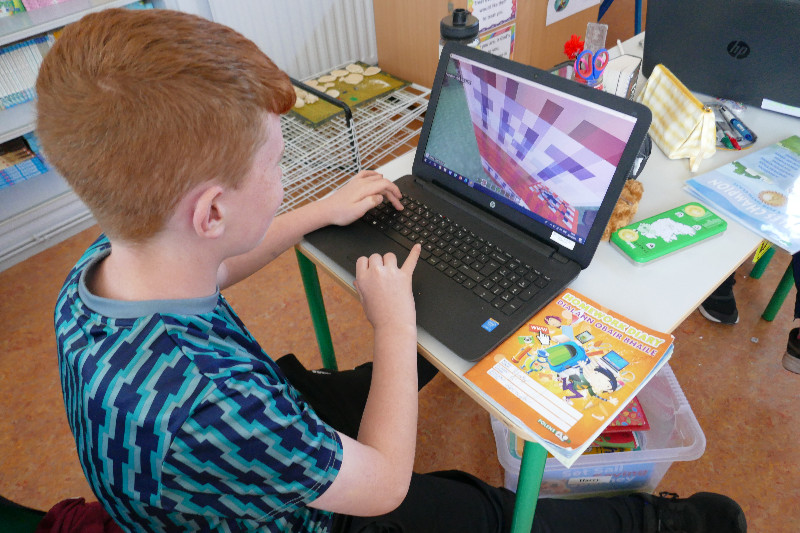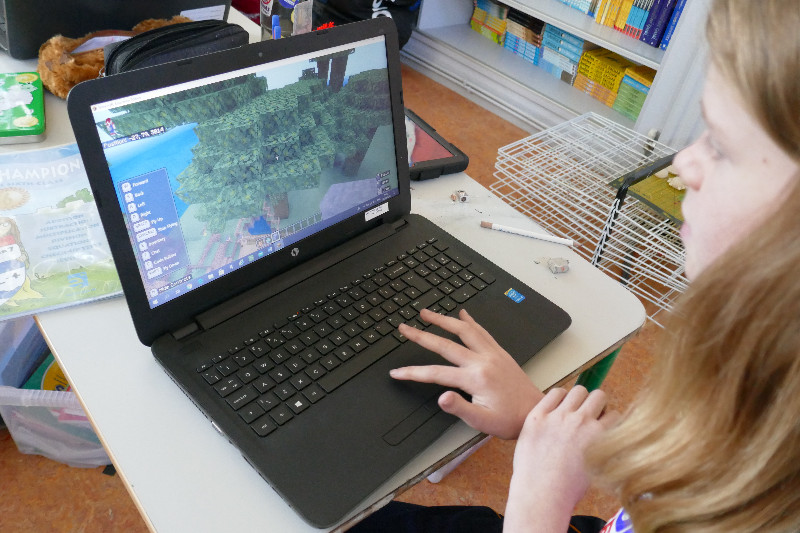 First Holy Communion
Congratulations to our Third Class students who received their First Holy Communion on Saturday 9th October in St. Patrick's Church, Dysart.

6th Class Graduation 2021
Today we said Farewell to our three 6th Class pupils. We had a virtual graduation prayer service led by Fr. Beirne followed by the students cutting the graduation cake and being presented with a certificate and a book of photos to remind them of all the happy memories they had of their time in Feevagh NS. We wish them all the best as they make the move to secondary school.
For more photos of the the Graduation, take a look at the gallery section of the website.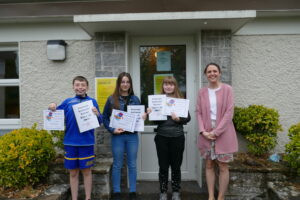 Sports Day 2021
Our Annual Sports Day was held at Feevagh N.S on Friday 11th June. Thanks to Simon from Four Roads Hurling Club and David and Oisín from St. Aidan's Football Club for coming to offer their expertise to the children during the day. The children also played a soccer and uni-hoc league and the senior room treated the junior room to healthy treats as part of the Incredible Edibles Project.
Take a look at the Gallery section of the website for more photos of our Sports Day.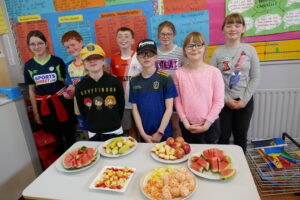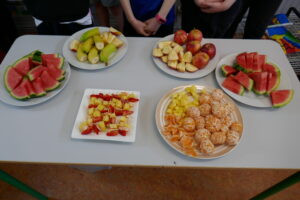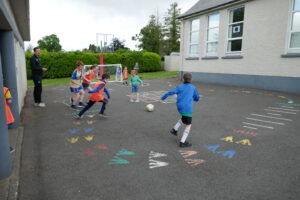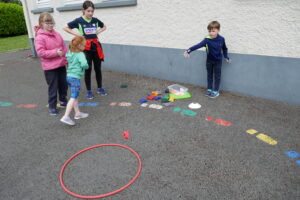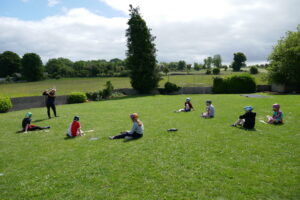 First Reconciliation 2021
The three boys from 2nd class celebrated the Sacrament of Reconciliation on Wednesday 26th May in St. Patrick's Church, Dysart.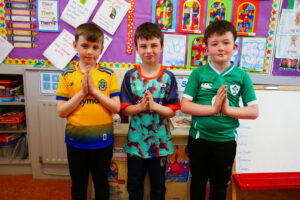 Creative Schools Week 2021
This week was Creative Schools Week and Feevagh N.S. featured in Episode 3 of the Creative Schools online celebrations. You can watch the episode here https://youtu.be/XlMxtGWt8UMFeevagh
As part of Creative Schools Week, the senior room made puppets and hosted a puppet show for the junior room. The junior room made puppets and introduced their characters to the whole school.
It was a busy week!! We hope you enjoy viewing our photos. To see more of them, take a look at the gallery section of our website. #creativeschool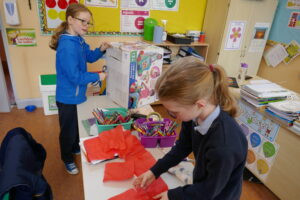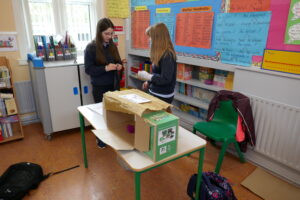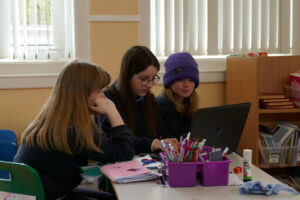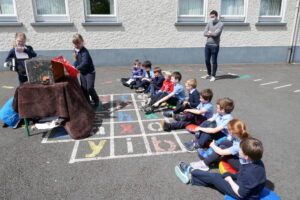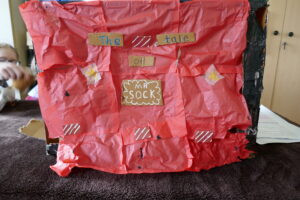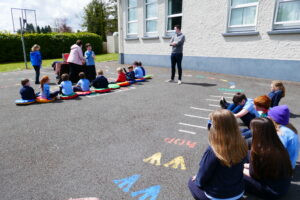 Active Schools Week 2021
Active School Flag (ASF) is a Department of Education and Skills initiative supported by Healthy Ireland, and part of the National Physical Activity Plan. An Active School is a school where physical activity is valued, promoted and enjoyed by all. The aim of the programme is to enable schools to achieve a physically educated and physically active school community. We achieved our first Active Schools Flag in 2016 and our second in 2019.
Last week, we celebrated Active Schools Week in Feevagh NS. It was a very busy and highly enjoyable week with both classrooms engaging in a wide variety of physical activities. The seniors played rounders on Monday, hurling on Tuesday, had an obstacle course on Wednesday and Football on Thursday. They arranged stations for the junior room on Friday: penalty shoot out, target throw, bean bag throw, parachute games and bowling. Then we all played a game of shark and fish and had a whole school soccer match.
The juniors had an obstacle course on Monday, hurling on Tuesday, Parachute games on Wednesday and football on Thursday!
Take a look at the gallery section of the website to see more images of the fun we had!